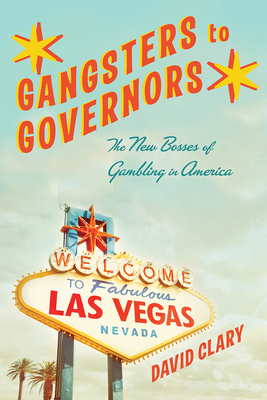 Gangsters to Governors
The New Bosses of Gambling in America
Hardcover

* Individual store prices may vary.
Description
Winner of the 2018 Current Events/Social Change Book Award from the Next Generation Indie Book Awards
Winner of the 2018 Bronze Current Events Book Award from the Independent Publisher Book Awards

Generations ago, gambling in America was an illicit activity, dominated by gangsters like Benny Binion and Bugsy Siegel. Today, forty-eight out of fifty states permit some form of legal gambling, and America's governors sit at the head of the gaming table. But have states become addicted to the revenue gambling can bring? And does the potential of increased revenue lead them to place risky bets on new casinos, lotteries, and online games?

In Gangsters to Governors, journalist David Clary investigates the pros and cons of the shift toward state-run gambling. Unearthing the sordid history of America's gaming underground, he demonstrates the problems with prohibiting gambling while revealing how today's governors, all competing for a piece of the action, promise their citizens payouts that are rarely delivered. 

Clary introduces us to a rogue's gallery of colorful characters, from John "Old Smoke" Morrissey, the Irish-born gangster who built Saratoga into a gambling haven in the nineteenth century, to Sheldon Adelson, the billionaire casino magnate who has furiously lobbied against online betting. By exploring the controversial histories of legal and illegal gambling in America, he offers a fresh perspective on current controversies, including bans on sports and online betting. Entertaining and thought-provoking, Gangsters to Governors considers the past, present, and future of our gambling nation.  

Author's website (http://www.davidclaryauthor.com)
Praise For Gangsters to Governors: The New Bosses of Gambling in America…
"David Clary delivers an encompassing look at the fascinating, ongoing evolution of American gambling. He touches on all the right topics – the mob, Las Vegas, Atlantic City, fantasy sports – to tell the story of where we've been, how we got here, and where we're headed."
— David Purdum

"This timely inquiry raises important questions about the relationship of Americans to gambling and is essential reading for those interested in the politics and policy behind gambling."
— David G. Schwartz

"An inherently fascinating and impressively informative study, Gangsters to Governors... is unreservedly recommended for both community and academic library American History collections"
— Carl Logan

"Gangsters to Governors: The New Bosses of Gambling in America... goes back to the earliest days of gambling in America, betting on horse racing in the early 19th century. It covers state-run lotteries, legal gambling in Nevada, and mob control over Las Vegas in the 20th century... Among the most compelling issues Clary raises is how states and their governors have become leading advocates of gambling because they're ever more dependent on the revenue it provides."
— Michael Shapiro, author of "A Sense of Place"

"It's a fascinating topic" - Full interview here
— Maureen Cavanaugh

"A well-written, tidbit-laden reference book about gambling in the U.S. from its beginnings to 2017."
— Las Vegas Review-Journal

"Journalist David Clary's book, Gangsters to Governors, is a fascinating read, chronicling gaming from the time of the mobsters forward to the relationships of politicians and state legalized gambling."
— Howard Hian

"Deeply researched, easily readable and highly engaging, Gangsters to Governors is an excellent read for fans of gambling and of American business and political history."
— Casino City Times

"How the Supreme Court's sports gambling decision may affect your bets" by David Clary op-ed
— San Diego Union-Tribune

"Sports betting likely coming to California, but not soon" by Michael Shapiro mention of Gangers to Governors
— San Francisco Chronicle

"Supreme Court ruling opens door to widespread sports betting" by Matt Villano Gangsters to Governors mention
— GlobalSport Matters
Rutgers University Press, 9780813584546, 344pp.
Publication Date: October 30, 2017
About the Author
DAVID CLARY is a news editor at the San Diego Union-Tribune and has been a journalist for more than twenty years. He previously worked at the Plain Dealer in Cleveland and is a graduate of Syracuse University.
or
Not Currently Available for Direct Purchase