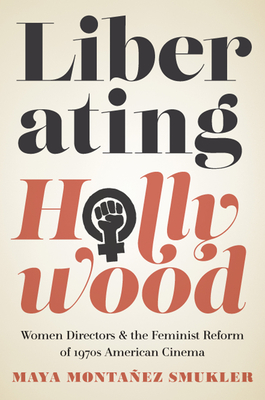 Liberating Hollywood
Women Directors and the Feminist Reform of 1970s American Cinema
Paperback

* Individual store prices may vary.
Other Editions of This Title:
Hardcover (12/14/2018)
Description
Winner of the 2018 Richard Wall Memorial Award​ from the Theater Library Association

Liberating Hollywood examines the professional experiences and creative output of women filmmakers during a unique moment in history when the social justice movements that defined the 1960s and 1970s challenged the enduring culture of sexism and racism in the U.S. film industry. Throughout the 1970s feminist reform efforts resulted in a noticeable rise in the number of women directors, yet at the same time the institutionalized sexism of Hollywood continued to create obstacles to closing the gender gap. Maya Montañez Smukler reveals that during this era there were an estimated sixteen women making independent and studio films: Penny Allen, Karen Arthur, Anne Bancroft, Joan Darling, Lee Grant, Barbara Loden, Elaine May, Barbara Peeters, Joan Rivers, Stephanie Rothman, Beverly Sebastian, Joan Micklin Silver, Joan Tewkesbury, Jane Wagner, Nancy Walker, and Claudia Weill. Drawing on interviews conducted by the author, Liberating Hollywood is the first study of women directors within the intersection of second wave feminism, civil rights legislation, and Hollywood to investigate the remarkable careers of these filmmakers during one of the most mythologized periods in American film history.
Praise For Liberating Hollywood: Women Directors and the Feminist Reform of 1970s American Cinema…
"Maya Montañez Smukler's Liberating Hollywood: Women Directors and the Feminist Reform of 1970s American Cinema is an exciting and topical examination of a transformative group of female filmmakers whose stories and struggles have too often been forgotten. At once an eye-opening analysis and a significant contribution to feminist film scholarship, Liberating Hollywood persuasively challenges the received wisdom about a period of American cinema (the so-called time of Easy Riders and Raging Bulls) in which women are routinely banished to the margins. As Smukler demonstrates, women were always there – making movies, good trouble and American history."
— Manohla Dargis

"A counterintuitive feminist history of the new Hollywood that convincingly challenges widely held assumptions about the boys' club movie brat auteur renaissance. In Liberating Hollywood, Maya Montanez Smukler is remarkably attentive to the industrial as well as sociopolitical histories that made such a new women's cinema and such a suddenly liberated Hollywood possible."
— Jon Lewis

"Both long overdue and coming right on time, Liberating Hollywood richly expands our understanding of Hollywood filmmaking in the 1970s. Expertly researched with stories from those who were there, Maya Montañez Smukler's book tells the stories of female directors working in Hollywood in the 1970s and fighting for their rights as mediamakers."
— Miranda Banks

"100 Women, One Hotel, and the Weekend Retreat That Presaged Time's Up By 18 Years" by Cari Beauchamp
— Vanity Fair

"Smukler sees the increase of independently produced features in the '80s as a turning point for women no longer at the mercy of a slow-moving studio system. She's right, though working independently puts the onus of proving artistic and commercial viability directly on individual artists' shoulders, dependent on a world of potentially prejudiced funders with no centralized power to reform, however incrementally. That said, it's impossible to read Liberating Hollywood and not recognize the progress that has been made, even though too much remains sadly familiar. It's still rough out there, but histories like these keep me moving forward."
— Film Comment

"How the 1970s Marked a Turning Point for Women Directors in Hollywood" by Dan Schindel
— Hyperallergic

"Highly recommended."
— Choice

 "A fascinating series of profiles of trailblazing filmmakers."
— Sight and Sound

"Liberating Hollywood is an invigorating, detailed account of the women who were denied seats at the directors' roundtable and sat down anyway. Their bittersweet but valiant efforts paved the way for feminist reform. Smukler's book is valuable not just because it covers an important piece of Hollywood history, but because it's a reminder that progress is not to be taken for granted."
— Movie Maker Magazine

"[An] essential book."
— New Yorker

"[An] excellent and deeply researched book."
— Variety

"An ambitious [and] compelling book....Smukler has done an excellent job of researching and writing about the individual careers of her directors. The stories are both empowering and heartbreaking, and she has out the available oral histories to good use."
— Cineaste

"This engaging and timely book is a long-overdue corrective to the histories of 1970s Hollywood that have celebrated the iconoclasm of 'new Hollywood' without also asking why that iconoclasm did not extend to changing Hollywood's production culture, and why, at the height of second-wave feminism, Hollywood continued to define media-making as men's work."
— Journal of American History

Book List: Celebrating Women in Film and TV History
— UCLA Library Film & Television Archive
Rutgers University Press, 9780813587479, 364pp.
Publication Date: December 14, 2018
About the Author
MAYA MONTAÑEZ. SMUKLER has worked as a research specialist for UCLA's Film and Television Archive and is currently conducting oral histories for the visual history program at the Academy of Motion Picture Arts and Science. She is an associate teaching professor in the School of Media Studies at The New School in New York. Her audio commentary is available on the Blu-ray of Elaine May's film A New Leaf.
 
or
Not Currently Available for Direct Purchase