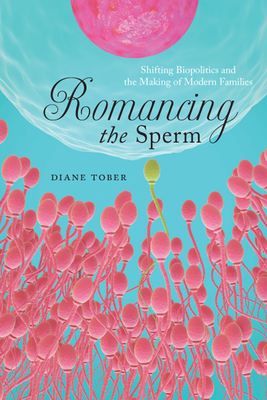 Romancing the Sperm
Shifting Biopolitics and the Making of Modern Families
Paperback

* Individual store prices may vary.
Other Editions of This Title:
Hardcover (11/30/2018)
Description
The 1990s marked a new era in family formation. Increased access to donor sperm enabled single women and lesbian couples to create their families on their own terms, outside the bounds of heterosexual married relationships. However, emerging "alternative" families were not without social and political controversy. Women who chose to have children without male partners faced many challenges in their quest to have children. Despite current wider social acceptance of single people and same sex couples becoming parents, many of these challenges continue.
 
In Romancing the Sperm, Diane Tober explores the intersections between sperm donation and the broader social and political environment in which "modern families" are created and regulated. Through tangible and intimate stories, this book provides a captivating read for anyone interested in family and kinship, genetics and eugenics, and how ever-expanding assisted reproductive technologies continue to redefine what it means to be human.  
Praise For Romancing the Sperm: Shifting Biopolitics and the Making of Modern Families…
"An exceptional ethnography of modern reproduction, 
Romancing the Sperm
 centers lesbian couples and single women as they engage with sperm donors and banks in a quest to become pregnant. Tober's extensive research spans decades, from the 1990s to the present, documenting critical shifts over time in sperm banking institutional and modern family formation practices.  An accessible read, the book makes a tremendously valuable contribution to feminist writing on reproductive technologies and politics."
— Rajani Bhatia
"A fascinating and engaging book! It just gets more and more interesting as it goes and is never boring. The quotes from those interviewed are perfect and poignant—they give so much insight into the struggles undergone by those choosing some form of artificial conception. The book thoroughly dispels traditional notions of "family" and shows the multiple and highly creative ways in which families are currently being generated in this brave new world of assisted reproduction. For many, this book will be not only a fascinating, but also an empowering read."
— Robbie Davis-Floyd
RT American interview with Diane Tober
— RT America
IVFML Season 2, Episode 7: Is Egg And Sperm Donation 'Worth It'? interview with Diane Tober
— Huff Post FML Becoming Family' podcast
"Written with scholarly attention to detail, and including a wealth of firsthand testimonies from women who have chosen to use sperm banks,
Romancing the Sperm
is fascinating and insightful from cover to cover. Highly recommended."
— Midwest Book Review
"Tober has written a retrospective ethnographic study of the first generation of women openly to buy sperm to make families. The book is about female choice, or, as she puts it, 'the biopolitics' of choice when women have resources of their own and the sperm of various male types can be bottled, screened, studied for motility, frozen, catalogued and transported."
— Times Literary Supplement
Diane Tober, "Romancing the Sperm: Shifting Biopolitics and the Making of Modern Families" New Books Network New Books in Anthropology podcast interview
— New Books Network - New Books in Anthropology
"Desperately Seeking Kin: Genetic Longing in the Donor Gamete Context," by Diane Tober
— Los Angeles Review of Books
"The book will be useful to scholars and students interested in broader historical perspectives on assisted reproduction, and its clear language and readability will make it appealing in undergraduate courses in medical anthropology, science, technology, and society, kinship and family, and gender and sexuality."
— Medical Anthropology Quarterly
"[Tober's] groundbreaking book shows us that modern families might be built on contradictions, and yet the kids are still alright."
— Feminist Formations
"What gives Tober's account unique insight into modern families is that it captures decades of social and academic change....[A] welcome addition to sociological classes on family or reproduction, and some chapters would be particularly useful in classes on gender, masculinity, or sexuality."
— Social Forces
Rutgers University Press, 9780813590783, 240pp.
Publication Date: November 30, 2018
About the Author
Diane Tober is an assistant adjunct professor at the University of California, San Francisco Institute for Health and Aging. In addition to her research, she also produced and directed the documentary film, The Perfect Donor.
 
or
Not Currently Available for Direct Purchase