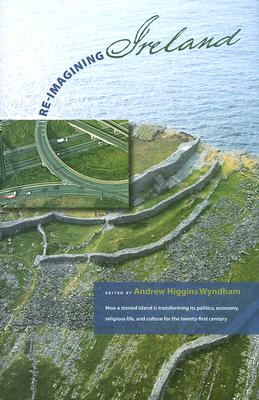 Re-Imagining Ireland (Hardcover)
How a Storied Island Is Transforming Its Politics, Economics, Religious Life, and Culture for the 21st Century [With DVD]
University of Virginia Press, 9780813925448, 273pp.
Publication Date: November 22, 2006
* Individual store prices may vary.
Description
Over the past decade the historically strife-ridden and impoverished nation of Ireland has emerged as one of the economic and social miracles of Europe. A booming software-based economy dubbed "the Celtic Tiger" has spurred an escalating standard of living, an influx of diaspora returnees and other immigrants, enormous growth in housing and infrastructure, and an uncommon flourishing in the arts. As a result, the Irish find themselves confronted with a new set of questions about who they are, where they are going, and how they will get there.The present volume is the outgrowth (though not the proceedings) of an unprecedented conference featuring more than one hundred renowned Irish writers, scholars, artists, musicians, and political and religious figures, who converged in Charlottesville in May of 2003 under the auspices of the Virginia Foundation for the Humanities. Over four days, participants engaged in a broad and lively consideration of the present realities and future trajectory of Irish culture: Re-Imagining Ireland, the book, comprises a generous and varied sampling of their voices and views. Each of the ten main essays is followed and beautifully complemented by shorter, topically related pieces from the likes of Roddy Doyle, Colm T ib n, and Frank McCourt, among others. The essay by Declan McGonagle, chairman of the Department of Art and Design at the University of Ulster, is supplemented by a selection of images from the Irish Museum of Modern Art, which were featured in a special exhibition at the original conference. This volume also includes a DVD of the companion documentary film Re-Imagining Ireland, which has aired on several PBS stations as well as on RT (Irish public television).
ContributorsFintan O'Toole * Helen Shaw * Peter McVerry * Liz O'Donnell * Peadar Kirby * Theo Dorgan * Colm T ib n * Frank McCourt * Larry Kirwan * Lenwood Sloan * Luke Gibbons * Roddy Doyle * Michael Collins * Noel Ignatiev * Angela Bourke * Aod n Mac P ilin * Declan McGonagle * Malcolm Maclean * Susan McKay * Fintan O'Toole * Arthur Aughey * Ed Moloney * Nuala O'Loan * Joe Lee * Kerby A. Miller * Patrick Griffin * Henry Glassie * Mary P. Corcoran * Pat Cooke * Roy Foster * Mick Moloney * Nicholas Carolan * Jean Butler * Martin McLoone * Trish McAdam * Rod Stoneman
Published in association with Virginia Foundation for the Humanities