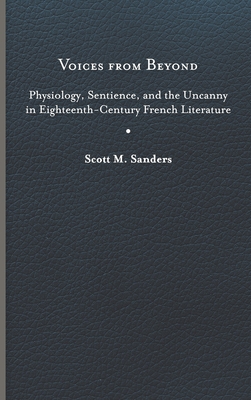 Voices from Beyond
Physiology, Sentience, and the Uncanny in Eighteenth-Century French Literature
Hardcover

* Individual store prices may vary.
Other Editions of This Title:
Paperback (4/11/2022)
Description
There was much uncertainty about how voice related to body in the early eighteenth century, and this became a major subject of scientific and cultural interest. In Voices from Beyond, Scott Sanders provides an interdisciplinary and transnational study of eighteenth-century conceptions of the human voice. His book examines the diversity of thought about vocal materiality and its roles in philosophical and literary works from the period, uncovering representations of the voice that intertwine physiology with physics, music with moral philosophy, and literary description with performance.
Voices from Beyond focuses on the voice as it was constructed in French works, influenced by French vocal sciences as well as British literary and philosophical texts. It explores how these texts theorize, represent, and construct three interrelated vocal types: the sentimental, the vitalist, and the uncanny. Sanders argues that while the conception of sentimental and vitalist voices was anchored to a physiological understanding of vocal organs, this paradoxically led to the development of a disembodied, uncanny voice-one that could imitate the sounds of a good moral fiber while masking a monstrous physiology.
University of Virginia Press, 9780813947327, 236pp.
Publication Date: April 11, 2022