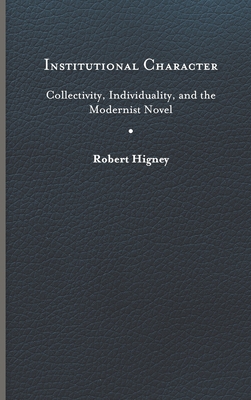 Institutional Character
Collectivity, Individuality, and the Modernist Novel (Cultural Frames)
Hardcover

* Individual store prices may vary.
Other Editions of This Title:
Paperback (7/19/2022)
Description
How do our institutions shape us, and how do we shape them? From the late nineteenth-century era of high imperialism to the rise of the British welfare state in the mid-twentieth century, the concept of the institution was interrogated and rethought in literary and intellectual culture. In Institutional Character, Robert Higney investigates the role of the modernist novel in this reevaluation, revealing how for a diverse array of modernist writers, character became an attribute of the institutions of the state, international trade, communication and media, labor, education, public health, the military, law, and beyond.
In readings of figures from the works of E. M. Forster, Joseph Conrad, and Virginia Woolf to Mulk Raj Anand, Elizabeth Bowen, and Zadie Smith, Higney presents a new history of character in modernist writing. He simultaneously tracks how writers themselves turned to the techniques of fiction to help secure a place in the postwar institutions of literary culture. In these narratives-addressing imperial administrations, global financial competition, women's entry into the professions, colonial nationalism, and wartime espionage-we are shown the generative power of institutions in preserving the past, designing the present, and engineering the future, and the constitutive involvement of individuals in collective life.
University of Virginia Press, 9780813948591, 242pp.
Publication Date: July 19, 2022