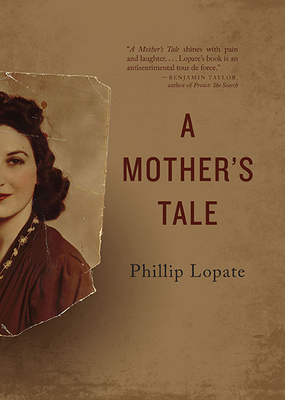 A Mother's Tale (21st Century Essays)
Hardcover

* Individual store prices may vary.
Other Editions of This Title:
Paperback (7/18/2018)
Description
In 1984, Phillip Lopate sat down with his mother, Frances, to listen to her life story. A strong, resilient, indomitable woman who lived through the major events of the twentieth century, she was orphaned in childhood, ran away and married young, and then reinvented herself as a mother, war factory worker, candy store owner, community organizer, clerk, actress, and singer. But paired with exciting anecdotes are the criticisms of the husband who couldn't satisfy her, the details of numerous affairs and sexual encounters, and, though she succeeded at many of her roles, accounts of how she always felt mistreated, taken advantage of. After the interviews, at a loss for what to do with the tapes, Lopate put them away. But thirty years later, after his mother had passed away, Lopate found himself drawn back to the recordings of this conversation. Thus begins a three-way conversation between a mother, his younger self, and the person he is today.
Trying to break open the family myths, rationalizations, and self-deceptions, A Mother's Tale is about family members who love each other but who can't seem to overcome their mutual mistrust. Though Phillip is sympathizing to a point, he cannot join her in her operatic displays of self-pity and how she blames his father for everything that went wrong. His detached, ironic character has been formed partly in response to her melodramatic one. The climax is an argument in which he tries to persuade her—using logic, of all things—that he really does love her, but is only partially successful, of course.
A Mother's Tale is about something primal and universal: the relationship between a mother and her child, the parent disappointed with the payback, the child, now fully grown, judgmental. The humor is in the details.
Praise For A Mother's Tale (21st Century Essays)…
"I relished this book. From its clash between mother and son emerges a fortifying love, which (I guess like all parental love) has its casualties along with its lush victories." —Richard Ford
"The gravitational pull of the child toward the mother is so powerful that it persists even in the face of cruelty or neglect. What is finally most affecting about this book is not Frances's story but her son's pained efforts to confront it." —Ruth Franklin, The New York Review of Books 
 
 
"[A] fascinating and deftly constructed book." —Jerald Walker, The New York Times Book Review
 
"Lucky for us, the cassettes collected dust in a shoebox in the closet until he was ready to write this entertaining and moving book, which is equal parts reflection, reconstruction, police interrogation, psychiatric evaluation, and, ultimately, tribute to his mother." —Annabelle Gurwitch, Los Angeles Review of Books
"By offering readers a candid portrait of his mother, Lopate manages precisely what he must: he takes a personal story and turns it outward, and in doing so, he makes it our story, too." —B. J. Hollar, The Los Angeles Review
 
 "Lopate, who's made a life out of language, listens back to the woman who first taught him to speak." —Hayden Bennett, San Francisco Chronicle
 

 
"A Mother's Tale is a nonfiction book that gives Frances a lot of time in the spotlight. . . . Lopate's mother was a 'monologist' who understood the power of narrative, and a person who could captivate and frustrate any audience who was willing to listen to her." —Michele Filgate, Barnes & Noble Review
"A Mother's Tale shines with pain and laughter. . . . Lopate's book is an antisentimental tour de force."—Benjamin Taylor, author of Proust: The Search
Mad River Books, 9780814213315, 196pp.
Publication Date: January 15, 2017
About the Author
Phillip Lopate is a central figure in the resurgence of the American essay, both through his best-selling anthology The Art of the Personal Essay and his collections, Bachelorhood, Against Joie de Vivre, Portrait of My Body, Portrait Inside My Head and To Show and to Tell: The Craft of Literary Nonfiction. He directs the nonfiction MFA program at Columbia University, where he is Professor of Writing.

 
or
Not Currently Available for Direct Purchase