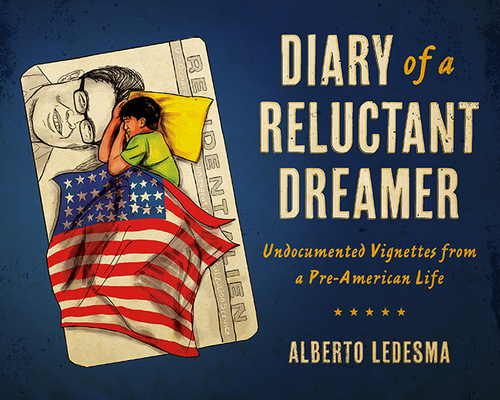 Diary of a Reluctant Dreamer (Paperback)
Undocumented Vignettes from a Pre-American Life (Latinographix)
Mad Creek Books, 9780814254400, 127pp.
Publication Date: September 8, 2017
* Individual store prices may vary.
Description
In this hybrid memoir, Alberto Ledesma wonders, At what point does a long-time undocumented immigrant become an American in the making? From undocumented little boy to "hyper documented" university professor, Ledesma recounts how even now, he sometimes finds himself reverting to the child he was, recalling his father's words: "Mijo, it doesn't matter how good you think your English is, la migra will still get you."
 
 
Exploring Ledesma's experiences from immigrant to student to academic, Diary of a Reluctant Dreamer presents a humorous, gritty, and multilayered portrait of undocumented immigrant life in urban America. Ledesma's vignettes about life in the midst of ongoing social trauma give voice to a generation that has long been silent about its struggles. Delving into the key moments of cultural transition throughout his childhood and adulthood—police at the back door waiting to deport his family, the ex-girlfriend who threatens to call INS and report him, and the interactions with law enforcement even after he is no longer undocumented—Ledesma, through his art and his words, provides a glimpse into the psychological and philosophical concerns of undocumented immigrant youth who struggle to pinpoint their identity and community.  
 
About the Author
Alberto Ledesma holds a doctorate degree from the University of California, Berkeley, and is Graduate Diversity Director in Arts & Humanities at Berkeley.
Praise For Diary of a Reluctant Dreamer: Undocumented Vignettes from a Pre-American Life (Latinographix)…
"This is a powerful document of the unspoken anxieties felt by Americans like [Ledesma] who worry that their immigration status and history will overshadow everything else in their lives." —Publishers Weekly
 
"Diary of a Reluctant Dreamer is an eye-opening glimpse into a mostly hidden way of life." —Foreword Reviews
"Mexican-American scholar/writer/artist Ledesma recounts his own experience of 'the immigrant experience,' with its tiers of risk and layers of aspiration. . . . Affecting, highly charged, and deserving of broad attention." —Kirkus Reviews 

"Alberto Ledesma vividly captures the paradoxes, challenges, achievements, and frustrations of being undocumented in America. He sheds new light on the lives of many we often forget." —Carla Trujillo, author of Faith and Fat Chances
"Alberto Ledesma's gorgeous drawings have fascinated me for a long time. Now his stunning work has become a book for the ages." —Luis Alberto Urrea
"The future of America—its openness and understanding—has always depended and thrived on the energy, ideas, and struggle of immigrants like Alberto Ledesma. The promised land can only be envisioned by the newcomer to our shore. Ledesma's story, its powerful images, is needed now more than ever in an age of rising xenophobia and continual exploitation." —Andrew Lam, winner of the PEN Open Book Award
 
 
"Ledesma writes with piercing insight about the intersection of citizenship, identity, gender, and familia, and he makes a compelling argument for an American identity that is more expansive than most of us have dared to imagine." —Daisy Hernández, coeditor of Colonize This! Young Women of Color on Today's Feminism