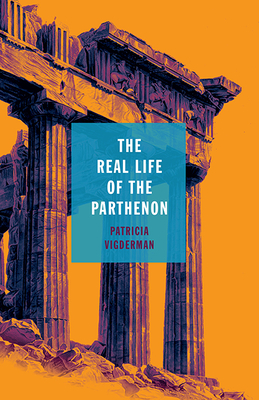 The Real Life of the Parthenon (21st Century Essays) (Paperback)
Mad Creek Books, 9780814254585, 200pp.
Publication Date: January 24, 2018
* Individual store prices may vary.
Description

Ownership battles over the marbles removed from the Parthenon by Lord Elgin have been rumbling into invective, pleading, and counterclaims for two centuries. The emotional temperature around them is high, and steering across the vast past to safe anchor in a brilliant heritage is tricky. The stories around antiquities become distorted by the pull of ownership, and it is these stories that urge Patricia Vigderman into her own exploration of their inspiring legacy in her compelling extended essay, The Real Life of the Parthenon.
 
Vigderman's own journey began at the Parthenon, but curiosity edged her further onto the sea between antiquity and the present. She set out to seek the broken temples and amphorae, the mysterious smiles of archaic sculpture, and the finely hammered gold of a funeral wreath among the jumbled streets of modern Athens, the fertile fields of Sicily, the mozzarella buffalo of Paestum. Guided along the way toward the enduring landscapes and fractured history by archeologists, classicists, historians, and artists—and by the desire they inspire—she was caught by ongoing, contemporary local life among the ruins. Gathering present meaning and resonance for the once and future remains of vanished glory, The Real Life of the Parthenon illuminates an important but shadowy element of our common cultural life: the living dynamic between loss and delight.
 
About the Author
Patricia Vigderman is Assistant Professor of English at Kenyon College. She is the author of Possibility: Essays Against Despair and The Memory Palace of Isabella Stewart Gardner.
Praise For The Real Life of the Parthenon (21st Century Essays)…
"Part memoir, part travelogue and part musing on cultural patrimony, her new book is a voyage around the ancient world in which she examines the issues raised by the migration of art in the modern era." —The New York Times  
"Patricia Vigderman's The Real Life of the Parthenon uses Grecian sites as vehicles to explore the meaning that historical artifacts bring to their nations of origin and to the foreign lands that lay claim to them. . . . Vigderman turns her deep, wide knowledge of culture and artifacts to a discussion that's too long lacked honesty, clarity of vision, and compassion." —Foreword Reviews

 
"The work is a sequence of beautifully interwoven meditations. Like any wide-awake traveler, Ms. Vigderman asks questions. . . . Owing to bravura writing, this book is as rewarding for an armchair traveler as for a first-time or seasoned one." —The Wall Street Journal
 
"The nimble narrative of Patricia Vidgerman's The Real Life of the Parthenon. . . traces out this history [of the Elgin marbles] in a very winning personal account. . . . Too smart to come down on one side of this famously contentious dispute, she offers a subtle dialectical analysis." —Hyperallergic
"Ms. Vigderman's polished prose is never vague; it never gropes, nor does it disappoint." —The Wall Street Journal
"In these richly informed and intensely personal meditations on art and history, Patricia Vigderman traces the life of our classical heritage through the centuries and shows its continuing vitality and significance in the present. Written with equal sensitivity to political debates and aesthetic beauty, The Real Life of the Parthenon deepens our understanding of how the imagination shapes and transforms the past—and how the deep past informs and shapes the imagination of the present." —Eva Hoffman, author of Lost in Translation and Time 
"In her elegant meditation on beauty and ruin, on the tangled tale of the loss and retrieval of classical artifacts of the West, Patricia Vigderman has fashioned a passionate travelogue that holds in balance long history and our present political moment. Her pilgrimage is a welcome inquiry into cultural ownership and imperial presumption, enlivened with vivid personal responses to art and landscape, searching considerations of celebrated earlier fellow travelers (Goethe, Henry James, Virginia Woolf) as well as lesser known figures—historians, photographers, and contemporary archeologists and curators. She brings them all vividly into her exploration of our relation to a shared, often contentious past. Her eye is by turns acute and tender, always keen. One of those rare books that takes a single subject and refracts it into a world."—Patricia Hampl