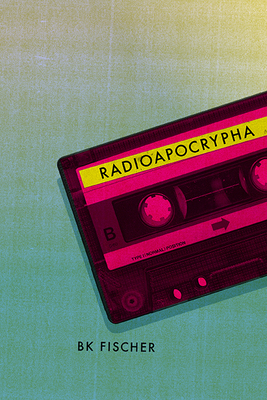 Radioapocrypha (OSU JOURNAL AWARD POETRY)
Paperback

* Individual store prices may vary.
Description
A novella in verse, Radioapocrypha envisions what would have happened if Jesus Christ had arrived for the first time not in Palestine two thousand years ago but in a subdivision in Maryland in 1989, the year Depeche Mode released "Personal Jesus." In this suburban retelling of the gospel, Jesus is a hunky post-punk high school chemistry teacher and the disciples are a twelve-member garage band. The story unfolds as recorded testimony and overheard teachings, a series of alternating lyric poems, prose poems, and parables that engage the social, sexual, and racial tensions of an era. Told from the point of view of the Magdalen character, named Maren—and drawing from the Gnostic text known as the Gospel of Mary as well as other scriptural sources—these poems sample widely from popular music and 1980s culture to recast and revivify a gritty, surreal, crackpot story of loners, losers, and lovers.
Praise For Radioapocrypha (OSU JOURNAL AWARD POETRY)…
"The New Testament gets a remix in poet B. K. Fischer's verse novella Radioapocrypha, a pagan rejoinder to the biblical story of redemption. An homage to a 1980s adolescence, it might also be one of the more necessary poetry collections for 2018: Fischer lends us nuanced ways of thinking about faith and fakes, secular shamans and sexual misconduct, deceit and devotion." —Los Angeles Review of Books



 

"BK Fischer is 'our lady' of the suburban neighborhood with streets named after famous poets—Keats, Spenser, Sidney, Pope. In the course of the book, and particularly through a series of poems whose titles begin 'Our Lady of,' Fischer creates characters and paints zones of the American landscape evoking the nostalgia, dread, and abuses we recognize and fear. Amidst the swirling, radioactive decay of curling irons, ear-piercing guns, Keds, and the word 'slut' Sharpied on a school locker, Radioapocrypha brilliantly tells the story of community, young adulthood, and the complexities of sexuality in American culture." —Sandra Simonds

"BK Fischer's Radioapocrypha is a revelation. Maybe that's the easy and obvious thing to say about a book that retells the Gospel and situates it in America in 1989? But the revelation here isn't, or isn't just, the revelation one might expect from such a book—it's the revelation of Fischer's own skill as a poet as the story gains momentum and matches the intensity of the source material. I wouldn't have thought anybody could pull that off, let alone so well. Not only is Radioapocrypha a revelation, it is a miracle." —Shane McCrae

​ "Fischer produces a work as smart, satisfying, and nuanced in its climax as it is as a whole." —Publisher's Weekly
Ohio State University Press, 9780814254646, 82pp.
Publication Date: February 1, 2018
About the Author
BK Fischer is an award-winning poet and poetry editor at Boston Review. Her collections of poetry include Mutiny Gallery and St. Rage's Vault.