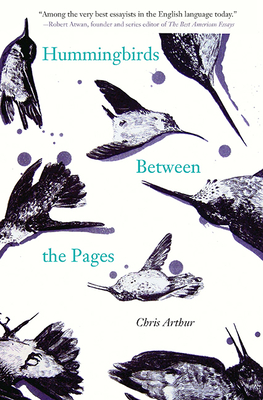 Hummingbirds Between the Pages (21st Century Essays)
Paperback

* Individual store prices may vary.
Description
In his latest collection, Hummingbirds Between the Pages, prizewinning Irish essayist Chris Arthur muses on subjects ranging from Charles Darwin's killing of a South American fox to the carnal music sounding in a statue of the Buddha, from how Egyptian seashells contain echoes of World War II to a child's first encounter with death. Whether he's looking at skipping stones, old photographs, butterflies, the resonance of a remembered phrase, or being questioned at an army checkpoint during Northern Ireland's Troubles, what gives these unorthodox meditations their appeal is the way in which—with striking lyricism—they tap into unexpected seams of meaning and mystery in our everyday terrain. Arthur explores the moments that have left him spellbound, tying his own experiences as a young boy from Ulster who saw his first hummingbirds in London to the wonder felt by early settlers to America who sent pressed hummingbirds across the ocean to the communities they had left behind. Through rumination on the seemingly quotidian, Arthur's lyrical prose exposes new layers of possibility just beneath the surface of the expected.
Praise For Hummingbirds Between the Pages (21st Century Essays)…
"The voice that speaks in all his work is quiet, yet lyrical, both self-effacing and slyly self-conscious. . . . [W]hat Chris Arthur has done here is show us, in the pressing of his thoughts to paper, how the individual life takes flight each time we snatch it from the air and stamp it to the page." —Northwords Now
 


"In Chris Arthur's masterful, elegant essay collection Hummingbirds Between the Pages, expansive and granular meditations on time, language, nature, mortality, and Northern Ireland capture wonder in the everyday. . . . Through singular phrasing and meticulous descriptions, these essays return again and again to the unlikely miracle of being alive." —­­­Foreword Reviews
 
 
 

"The essay, in Chris Arthur's hands, proclaims its outsider status, its subversive momentum, its effortless inclusivity and freedom from trammels of the imagination, attaining an embodiment which is civilized, idiosyncratic and rare." —Times Literary Supplement

"Together these essays take on a near-cosmic view of how we got here and where we are going. It's a stunning collection that reveals a depth and nimbleness of thinking that is a joy to read."  —Shelf Awareness

"Arthur is proof that the art of the essay is flourishing." —Publishers Weekly

 "Arthur is a gifted observer, and these finely crafted essays will surprise and delight." —Publishers Weekly

"Among the very best essayists in the English language today." —Robert Atwan, founder and series editor of The Best American Essays
Mad Creek Books, 9780814254844, 264pp.
Publication Date: July 24, 2018
About the Author
Chris Arthur is an Irish writer whose seven previous essay collections include Reading Life, On the Shoreline of Knowledge, and Words of the Grey Wind.