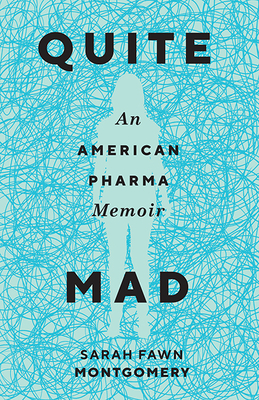 Quite Mad
An American Pharma Memoir (Machete)
Paperback

* Individual store prices may vary.
Description
Diagnosed with severe anxiety, PTSD, and OCD in her early twenties, Sarah Fawn Montgomery spent the next ten years seeking treatment and the language with which to describe the indescribable consequences of her mental illness. Faced with disbelief, intolerable side effects, and unexpected changes in her mental health as a result of treatment, Montgomery turned to American history and her own personal history—including her turbulent childhood and the violence she faced as a young woman—to make sense of the experience.
Blending memoir with literary journalism, Montgomery's Quite Mad: An American Pharma Memoir examines America's history of mental illness treatment—lobotomies to sterilization, the rest cure to Prozac—to challenge contemporary narratives about mental health. Questioning what it means to be a woman with highly stigmatized disorders, Montgomery also asks why mental illness continues to escalate in the United States despite so many "cures." Investigating the construction of mental illness as a "female" malady, Montgomery exposes the ways current attitudes towards women and their bodies influence madness as well as the ways madness has transformed to a chronic Illness in our cultural imagination. Montgomery's Quite Mad is one woman's story, but it offers a beacon of hope and truth for the millions of individuals living with mental illness and issues a warning about the danger of diagnosis and the complex definition of sanity.
 
 
Praise For Quite Mad: An American Pharma Memoir (Machete)…
"To cover so much material could have resulted in an unwieldy book, but Montgomery's keen curiosity guides us through history, social criticism, and the author's lived experience.…Quite Mad joins several recent works…which, thankfully, seem to be working toward new ways of writing about mental health."
—Melissa Oliveira, Brevity
 

"A wrenching account of a difficult upbringing and a chaotic brain that will leave readers marveling at the author's endurance. . . . The author offers a gripping picture of the real pain and suffering of someone diagnosed with chronic mental illness." —Kirkus Reviews

"Montgomery puts American denial on display, describing why we label mental illness so paradoxically: 'to talk of disease without cure is problematic for a country concerned with triumph.' As a country we choose to pop pills instead of accepting the difficult aspects of human existence, medicating ourselves into oblivion. Quite Mad is the wake-up call that we need." —Madeline Day, Paris Review

"Sarah Fawn Montgomery's Quite Mad is a brilliant, kinetic story of living with anxiety disorder. She captures both her inner struggles and her outer ones, taking control of both herself and the clinicians who put patient needs last. An essential book." —Susanne Paola Antonetta, author of A Mind Apart

"Quite Mad is at once a well-organized history of mental illness, especially with regard to women, an examination of the role of the illness narrative, and a fascinating memoir of a woman's struggle." —Intima

"An important and incredible debut work of nonfiction, a powerful consideration of our collective thinking about mental health, and a heartfelt unflinching memoir of her own personal fight against misunderstanding and overmedication." —Steven Church, author of I'm Just Getting to the Disturbing Part
Mad Creek Books, 9780814254868, 296pp.
Publication Date: September 21, 2018
About the Author
Sarah Fawn Montgomery is the author of Regenerate: Poems of Mad Women, Leaving Tracks: A Prairie Guide, and The Astronaut Checks His Watch. She works as Prairie Schooner's Assistant Nonfiction Editor and is an Assistant Professor at Bridgewater State University in Massachusetts.