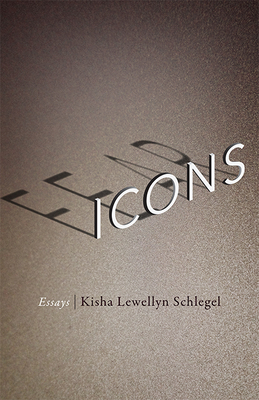 Fear Icons
Essays (21st Century Essays)
Paperback

* Individual store prices may vary.
Description
"Who are we to each other when we're afraid?" Kisha Lewellyn Schlegel asks in Fear Icons, her moving and original debut essay collection. Her answer is a lyric examination of the icons that summon and soothe our fears. From Donald Trump to the Virgin Mary, Darth Vader to the Dalai Lama, Schlegel turns cultural criticism personal with bracing intelligence and vulnerability as she explores what it means to be human, a woman, an artist, and, in particular, a parent: what it means to love a child beyond measure, someone so vulnerable, familiar, and strange. Schlegel looks at fear and faith—the ways the two are more similar than we realize—and the many shapes our faith takes, from nationalism to friendship, from art to religious dogma. Each essay is woven through with other voices—Baldwin, Ashbery, Du Bois, Cixous—positioning Schlegel's arguments and meditations within a diverse and dynamic literary lineage. Fear Icons is a vital and timely inquiry into the complex relationship between love and fear—and the ways that each intensifies the other. 
Praise For Fear Icons: Essays (21st Century Essays)…
"In her beautiful, bereaved debut, Fear Icons, Kisha Schlegel's chambers make an 'intimate venue' for tremendous outrage, where private whispers ricochet, redirect, and echolocate mournfully to publically address 'the sadness of the country I come from'—which is to say, Fear Icons is a book of prayers. It's the first book of prayers of the twenty-first century that makes any sense to me." —Robyn Schiff, author of A Woman of Property
 

"Kisha Schlegel's brilliant debut illuminates some of our most hardened cultural icons and the fears that they induce. This is a bold new literary voice of fierce intelligence, vulnerability, and empathy." —John D'Agata, author of Halls of Fame, About a Mountain, and The Lifespan of a Fact
 

"Startlingly original, imaginative as well as deeply researched, this essay collection simultaneously stuns and soothes. The writing is mesmerizing and incandescent, each sentence offering a way forward, not in spite of fear, but because of it." —Inara Verzemnieks, author of Among the Living and the Dead

 

​​

"Fear Icons is a weighty, urgent, and timely book. And it is, unironically, fearless amidst fear, as it sets out to place the author's delicate observations against the stark and charged backdrop of a species forever at conflict with itself." —Lina María Ferreira Cabeza-Vanegas, Rona Jaffe Award Winner and author of Don't Come Back (OSU Press)
 

"The essays in Fear Icons—lush, alluring, revelatory—penetrate themes of exploitation, wonder, normalcy, and patriarchy. Kisha Lewellyn Schlegel is the new American essayist, equal parts poet, activist, and intellectual. This is a book to marvel over and to learn from, to treasure and to gift." —Sharma Shields, author of The Sasquatch Hunter's Almanac
Mad Creek Books, 9780814254943, 160pp.
Publication Date: October 8, 2018
About the Author
Kisha Lewellyn Schlegel is an essayist and Assistant Professor of English at Whitman College.