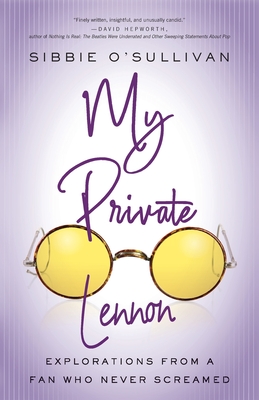 My Private Lennon (Paperback)
Explorations from a Fan Who Never Screamed (21st Century Essays)
Mad Creek Books, 9780814255667, 184pp.
Publication Date: February 17, 2020
* Individual store prices may vary.
Description
My Private Lennon: Explorations from a Fan Who Never Screamed offers a new point of view from which to consider the Beatles' impact on society and on the individual. In a series of linked autobiographical essays that explore the musical, cultural, and personal aspects of intense music fandom, Sibbie O'Sullivan dismantles the grand narrative of the fifteen-year-old hysterical female Beatles fan and replaces it with an introspective and often humorous tale about how the band shaped her intellectual and artistic development.
 
My Private Lennon charts the author's realization that the Beatles, especially John Lennon, were a crucial force in her development. A radical departure from other books written by Beatles fans, My Private Lennon invites its readers to consider subjects not usually found in works about Lennon and the band, such as the constraints of memory, the male body, grief, the female breast, race, cultural issues, and the importance of privacy in our over-mediated world. In pieces that engage cultural issues and historical contexts, My Private Lennon creates a witty and provocative intimacy with readers who value the power of art to change one's life and who love John Lennon and the Beatles.
 
Praise For My Private Lennon: Explorations from a Fan Who Never Screamed (21st Century Essays)…
"O'Sullivan makes connections between the adolescent world of Beatlemania, the poetry of T. S. Eliot, the sound of 'No Reply,' and the untidy nature of memory that no writer has made before. Finely written, insightful and unusually candid, her book will c
apture its readers." —David Hepworth, author of 
Nothing Is Real: The Beatles Were Underrated and Other Sweeping Statements About Pop
"Given how much support women and girls provided the Beatles before they became cultural icons, it's astounding how absent female voices have been from Beatles history even fifty-plus years later. 
My Private Lennon
 fills that gap and will inspire other female voices to be heard." —Caryn Rose, author of 
B-Sides and Broken Hearts
"Sibbie O'Sullivan's evocative and deeply personal essays reveal how John Lennon informed the consciousness of millions of fans in the 1960s and remained a luminous presence throughout their lives. Readers will relate to O'Sullivan's journey." —Candy Leonard, author of 
Beatleness: How the Beatles and Their Fans Remade the World