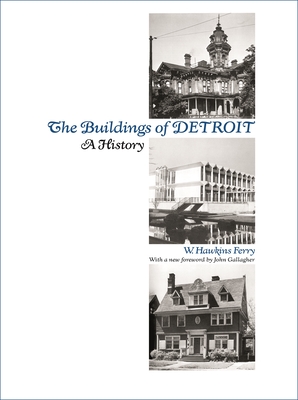 The Buildings of Detroit (Hardcover)
A History
Wayne State University Press, 9780814316658, 498pp.
Publication Date: October 1, 2012
* Individual store prices may vary.
Description
First published in 1968, The Buildings of Detroit: A History by W. Hawkins Ferry is the definitive resource on the architecture of Detroit and its adjacent communities, from pioneering times to the end of the twentieth century. Ferry based his impressive volume on thirteen years of meticulous research, interviews with many prominent architects, and hundreds of photos commissioned specifically for the book. Ferry revised The Buildings of Detroit in 1980, adding the Renaissance Center and other modern works, and this re-released version presents the revised edition adding only a new foreword by John Gallagher.
The Buildings of Detroit spans from the early 1700s, when the city was a fur-trading post in the wilderness, to its more contemporary position as the capital of the automotive industry and a major industrial city. Along the way, Ferry offers glimpses of the log cabins of early explorers and soldiers, the Victorian mansions of lumber barons, and the Grosse Pointe and Bloomfield Hills residences of motor magnates. He traces the development of new building techniques that gave rise to the American skyscraper and the modern factory. Ferry details all of downtown's landmark buildings, including many that are no longer standing, and visits fascinating neighborhood structures like movie theaters, hotels, shopping centers, and apartment buildings. In each chapter, readers will meet the visionary architects and clients whose foresight and initiative helped shape the fabric of one of America's great cities.
The Buildings of Detroit also includes a selected chronology, maps, references, notes, an extensive index, and 475 illustrations. Previously out of print and difficult to find, this re-released classic will be treasured by Detroit history buffs and architectural historians.
About the Author
W. Hawkins Ferry was born into a distinguished Detroit family in 1913. His grandfather, Dexter Mason Ferry, was a founder of D. M. Ferry and Company, and his father, Dexter M. Ferry Jr., was head of the company when it merged to become the Ferry-Morse Seed Company. Educated at the University Liggett School, at Cranbrook, and at Harvard University, he pursued graduate studies at the Harvard School of Design, worked as an architectural designer, and served as an instructor in art and architectural history at Wayne State University. Ferry was an important collector of contemporary art and a patron of the Detroit Institute of Arts, which his grandfather helped to found. He was the honorary curator of architecture, chairman of the Friends of Modern Art, and a trustee of the Founders Society at the Detroit Institute of Arts; as well as an honorary member of the Michigan Society of Architects. He died in 1988 and left his art collection to the Detroit Institute of Arts.
or
Not Currently Available for Direct Purchase