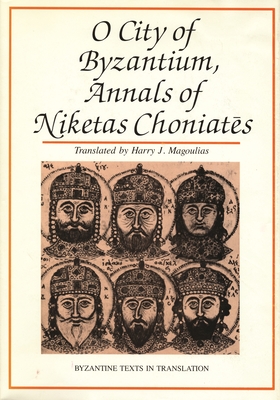 O City of Byzantium (Hardcover)
Annals of Niketas Choniataes (Byzantine Texts in Translation)
Wayne State University Press, 9780814317648, 476pp.
Publication Date: September 1, 1984
* Individual store prices may vary.
Description
O City of Byzantium is the first English translation of a history which chronicles the period of Byzantine history from 1118 to 1207. The historian Niketas Choniates provides an eye-witness account of the inexorable events that led to the destruction of the longest lived Christian empire in history, and to the ultimate catastrophe of the fall of Constantinople in 1204 to the Fourth Crusade. For the student of the Middles Ages who cannot read Greek, and for the historians and the general public, this volume contains one of the most important historical accounts of the Middle Ages. Recorded in detail are the political, economic, social, and religious causes of alienation between the Latin West and the Greek East that separated the two halves of the Christian world and broke apart the great bulwark of European civilization.
About the Author
Harry J. Magoulias is professor of history at Wayne State University. He holds the Ph.D. in history from Harvard University and was a research fellow at Dumbarton Oaks. Professor Magoulias has previously published two books with Wayne State University Press: Byzantine Christianity: Emperor, Church and the West (1982) and a translation of the fifteenth-century Byzantine history written by Doukas titled Decline and Fall of Byzantium to the Ottoman Turks (1975).