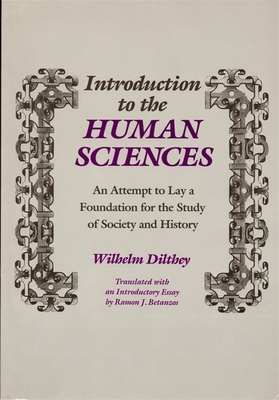 Introduction to the Human Sciences (Paperback)
An Attempt to Lay a Foundation for the Study of Society and History
Wayne State University Press, 9780814318980, 386pp.
Publication Date: December 1, 1988
* Individual store prices may vary.
Description
Introduction to the Human Sciences carries forward a projected six-volume translation series of the major writings of Wilhelm Dilthey (1833-1911)--a philosopher and historian of culture who has had a strong and continuing influence on twentieth-century Continental philosophy as well as a broad range of other scholarly disciplines. In addition to his landmark works on the theories of history and the human sciences, Dilthey made important contributions to hermeneutics and phenomenology, aesthetics, psychology, and the methodology of the social sciences. The Selected Works will make accessible to English-speaking readers the full range of Dilthey's thought, including some historical essays and literary criticism. The series provides translations of complete texts, together with editorial notes, and contains manuscript materials that are currently being published for the first time in Germany.This volume brings together the various parts of the Introduction to the Human Sciences published separately in the German edition. Rudolf Makkreel and Frithjof Rodi have underscored the systematic character of Dilthey's theory of the human sciences by translating the bulk of Dilthey's first volume (published in 1883) and his important drafts for the never-completed second volume.
About the Author
Ramon J. Betanzos, a Ph.D. from the University of Michigan, is an assistant professor in the Humanities Department at Wayne State University.