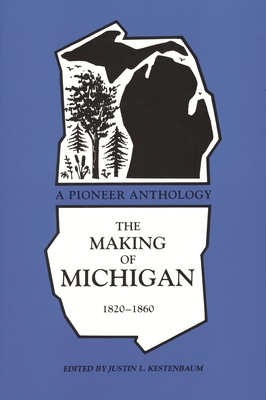 Making of Michigan, 1820-1860 (Paperback)
A Pioneer Anthology (Great Lakes Books)
Wayne State University Press, 9780814319192, 424pp.
Publication Date: May 1, 1990
* Individual store prices may vary.
Description
The Making of Michigan is a wide-ranging collection of primary accounts of life in Michigan during the pioneer period, the era from the 1820s to the outbreak of the Civil War. In this time of explosive growth, the state's population increased from 8,000 to 750,000. These emigrants brought the state into the union in 1837 and began to create a set of institutions and a way of life.
Justin Kestenbaum draws on the rich documentary record left by those who sojourned in the state during this time and recorded their impressions. Not only pioneers but land speculators, missionaries, and sight-seers left valuable accounts of the Michigan landscape and its emerging society.
Following a general introduction, the book is divided into six parts: The Interminable Forest, Laying the Foundation, The Great Migration, Education, A Vision of Life, and Political Life, each with its own brief introduction. Notes and a bibliography conclude this valuable resource history.
About the Author
Justin L. Kestenbaum is a professor of history at Michigan State University, where he has taught Michigan history for a number of years. He received his M.A. and Ph.D. from Northwestern University. Dr. Kestenbaum's most recent book is Out of a Wilderness: An Illustrated History of Greater Lansing.