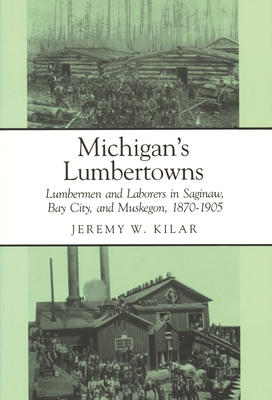 Michigan's Lumbertowns (Paperback)
Lumberman and Laborers in Saginaw, Bay City, and Muskegon, 1870-1905 (Great Lakes Books)
Wayne State University Press, 9780814320730, 368pp.
Publication Date: August 1, 1990
* Individual store prices may vary.
Description
Michigan's foremost lumbertowns, flourishing urban industrial centers in the late 19th century, faced economic calamity with the depletion of timber supplies by the end of the century. Turning to their own resources and reflecting individual cultural identities, Saginaw, Bay City, and Muskegon developed dissimilar strategies to sustain their urban industrial status. This study is a comprehensive history of these lumbertowns from their inception as frontier settlements to their emergence as reshaped industrial centers.
Primarily an examination of the role of the entrepreneur in urban economic development, Michigan Lumbertowns considers the extent to which the entrepreneurial approach was influenced by each city's cultural-ethnic construct and its social history. More than a narrative history, it is a study of violence, business, and social change.
About the Author
Jeremy W. Kilar is profesor of American history at Delta College, University City, Michigan. He received his Ph.D. from the University of Michigan. With Bradley F. Smith, he is the co-author of Tobico Marsh.