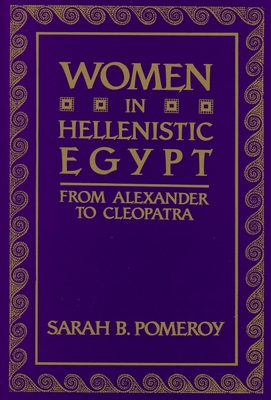 Women in Hellenistic Egypt (Paperback)
From Alexander to Cleopatra
Wayne State University Press, 9780814322307, 272pp.
Publication Date: February 1, 1990
* Individual store prices may vary.
Description
After its conquest in 331 B.C., Egypt became the center of the Hellenistic world, attracting men and women from other parts of the Mediterranean area. In this cosmopolitan and mobile society, Greek women of the ruling class had unprecedented opportunities and were able to employ some of the legal freedoms enjoyed by their Egyptian counterparts.

Using evidence from a wide array of sources including literature, papyri, inscriptions, coins, and terra-cotta figurines, Sarah Pomeroy discusses women ranging from queens such as Arsino II and Cleopatra VII to Jewish slaves working on a Greek estate. This edition contains a new foreword, additional information, and an updated bibliography by the author.
About the Author
Sarah B. Pomeroy, a Ph.D. from Columbia University, is currently Professor of Classics and Women's Studies at Hunter College and at the Graduate School, City University of New York. She is an experienced papyrologist and wrote the first general book in English about women in antiquity: Goddesses, Whores, Wives, and Slaves.