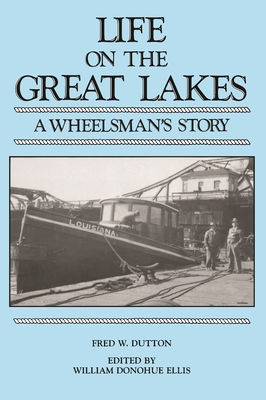 Life on the Great Lakes (Paperback)
A Wheelsman's Story (Great Lakes Books)
Wayne State University Press, 9780814322611, 176pp.
Publication Date: February 1, 1991
* Individual store prices may vary.
Description
Fred Dutton's story tells of the time before the gyro when ships were steered by magnetic compass and men had to estimate the degree of error in navigational calculations. Dutton recounts the terror of ships meeting and passing in the fog and the subtleties of handling ships at the docks. Serving under many captains on a dozen and a half vessels, he spices his account with profiles of ships' officers and crew and with details of deckhand work.
Life on the Great Lakes provides a concentration of information that otherwise would need to be assembled in fragments from a hundred sources. Historians, folklore buffs, and ship lovers will discover details of vessel operation usually available only in the dialogue of a passing generation of very elderly sailors.
About the Author
Fred Dutton was sixteen in 1916 when he first went to work on a Great Lakes ship. Born into a well-to-do shipping family, he went to sea rather than join the family business. He eventually became a railroad lawyer, but managed to keep his hand on a ship's wheel, arranging each summer with steamship companies to sail relief wheelsman during his vacation.William Donohue Ellis is editor of Inland Seas and the author of more than twenty books, including Land of the Inland Seas, The Ordinance of 1787, and the highly acclaimed Bounty lands Trilogy.
or
Not Currently Available for Direct Purchase