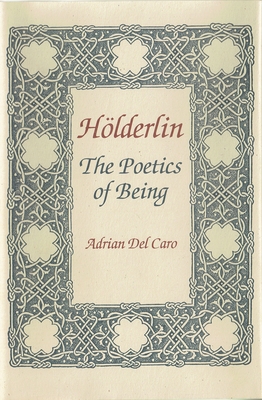 Holderlin (Hardcover)
Poetics of Being. Annotated Bibliography and Guide
Wayne State University Press, 9780814323212, 146pp.
Publication Date: November 1, 2017
Description
Here is a comprehensive introduction for the English reader to the poetry of Friedrich H lderlin. The poet is studied in the context of the romantic age, but as one who imparted depth to the movement and influenced the critical debates of the 20th century.

Adrian Del Caro presents as detailed, readable discussion of H lderlin's major poems that clarifies, but does not lose sight of, the powerful formulations that animate H lderlinian spirit. H lderlin's specific effort in the determination of the direction of modern man had to do with the relationship of poetry to being. Del Caro draws on the contributions of Nietzsche and Heidegger within the theoretical framework of the question of being. H lderlin, "the poet of poets," is presented at work and in his works as the instrument of conviviality binding mortal to mortal and mortal to divine.
About the Author
Adrian Del Caro is a professor of German at Louisiana State University. He earned his Ph.D. from the University of Minnesota.
Advertisement