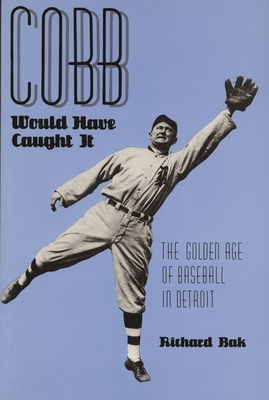 Cobb Would Have Caught It (Paperback)
The Golden Age of Baseball in Detroit (Advances in Computers and Composition Studies)
Wayne State University Press, 9780814323564, 392pp.
Publication Date: April 1, 1993
* Individual store prices may vary.
Description
The period from 1920 through the early post-World War II years remains the greatest in the long history of the Detroit Tigers Baseball Club. Between 1920 and 1950 the club won four pennants and two World Series, placed second seven times, and regularly fielded exciting, competitive teams.

Richard Bak spent ten years recording the life stories of nearly two dozen Tigers players from Detroit's "golden age." There was no pattern to how life had treated them since their playing days--some had stayed in the game as broadcasters or scouts; others had slipped into quiet anonymity as milkmen or machine repairmen. Bak retains the flavor of each man's speech and the integrity of his character. Players' interviews are prefaced with a short history of the parallel paths the city and professional baseball took from the end of World War I through the early 1950s.
About the Author
Richard Bak is the author of more than twenty-five books, including A Place for Summer: A Narrative History of Tiger Stadium (Wayne State University Press, 1998), and Turkey Stearnes and the Detroit Stars: The Negro Leagues in Detroit, 1919-1933 (Wayne State University Press, 1995).