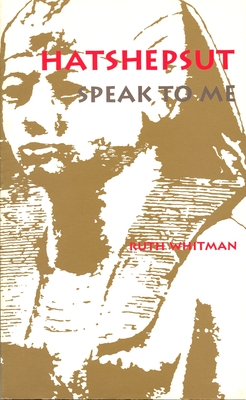 Hatshepsut, Speak to Me (Paperback)
Wayne State University Press, 9780814323809, 96pp.
Publication Date: June 1, 1992
* Individual store prices may vary.
Description
Hatshepsut, Speak to Me, Ruth Whitman's eighth volume of poetry, is her most innovative and adventurous book. It is in the form of a conversation with Queen Hatshepsut, the only woman pharaoh in ancient Egypt, whose reign of more than twenty years was one of the most peaceful and artistically splendid eras in Egyptian history. As poet and pharaoh talk to each other, it becomes apparent that the two lives intersect remarkably across the centuries. Both must face problems of sexual identity, love, work, mothering, conflict, and loss.

An admirer of Hatshepsut for the past forty years, Whitman has spent the last five researching the pharaoh's life and surrounding culture, visiting Egypt twice in order to study the landscape along the Nile to contemplate Hatshepsut's monuments, particularly her spectacular three-tiered temple at Deir el Bahri in the Valley of the Kings. The result is a vibrant glimpse into two parallel lives, illustrating a unique relationship between two women separated by twenty-five centuries, and illuminating many of the issues relevant to every contemporary woman's experience.

Whitman goes beyond just telling Hatshepsut's story. She connects herself with the life of her subject, speaks to her, and learns from her. Hatshepsut, Speak to Me represents a culmination of Ruth Whitman's series of groundbreaking narrative poems written in the voices of other extraordinary women--Lizzie Borden, Tamsen Donner, Hanna Senesh, Anna Pavlova, and Isadora Duncan.
About the Author
Ruth Whitman is the recipient of numerous awards including Senior Fulbright Writer-in-Residence Fellowship to Hebrew University inJerusalem. National Endowment for the Arts Fellowship. and the Alice Fay di Castagnola Award from the Poetry Society of America. Writer-in-Residence at many universities andcolleges. She has read widely in the United States. England. Israel. and Egypt. At present on leave from the Radcliffe College Seminars. she is Visiting Professor of Poetry at theMassachusetts Institute of Technology.