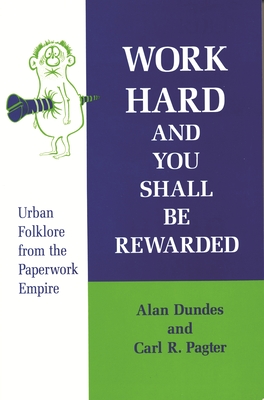 Work Hard and You Shall Be Rewarded
Urban Folklore from the Paperwork Empire (Humor in Life and Letters)
Paperback

* Individual store prices may vary.
Description
Anyone who has ever filled in a form in triplicate, taken an aptitude test, or been rebuffed by a form letter will appreciate the urban folklore found in this collection. Urban people as a folk are bound together by their unhappy experiences in battling "the system," whether that system is the machinery of government or the office where one works. The wonderfully expressive materials in this book--chain letters, memoranda, notices, and cartoons--touch upon every major controversy of urban America: racism, sex, politics, automation, alienation, welfare, the women's movement, military mentality, and office bureaucracy. The humor of the materials pinpoints the ills and frustrations of modern society and becomes, in turn, an escape from them.
Wayne State University Press, 9780814324325, 248pp.
Publication Date: December 1, 1992
About the Author
Alan Dundes is a professor of anthropology and folklore at the University of California, Berkeley. Carl R. Pagter is counsel and consultant for a large corporation in California.