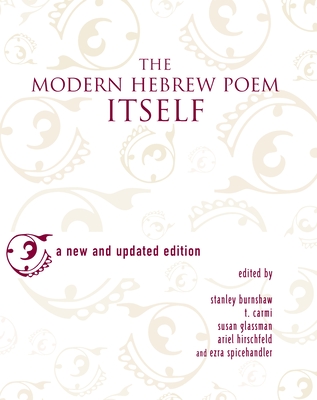 The Modern Hebrew Poem Itself (Paperback)
Wayne State University Press, 9780814324851, 359pp.
Publication Date: February 1, 2003
* Individual store prices may vary.
Description
In this new and expanded edition of a classic volume first printed in 1965, The Modern Hebrew Poem Itself adds the dynamic voices of a new generation of Hebrew poets. Each poem appears in both its original Hebrew and an English phonetic transcription, along with extensive commentary and a literal English translation. This offers readers who know little or no Hebrew a way to experience the poem in a multi-faceted way-they are able to speak and hear the lines as well as grasp the poem's meaning. Recognizing that poems have a unique order that may be missed by a reader who doesn't speak the poet's language, the editors provide the reader with an understanding of not only what the poet is saying, but how the idea is communicated. Also included in the volume is a valuable introduction to and historical overview of Hebrew poetry from 1880-1990. The Modern Hebrew Poem Itself is a must-have for lovers of poetry and Jewish literature.
About the Author
Stanley Burnshaw, retired author, critic, and publisher, originated the method for presenting poetry used in this volume.T. Carmi was a widely respected modern Hebrew poet.Susan Glassman was an editor for American Heritage Books and wrote many articles on literary, art, and social criticism.Ariel Hirschfield is an important Israeli literary critic.Ezra Spicehandler is the Emeritus Distinguished Professor of Hebrew Literature at the Hebrew Union College-Jewish Institute of Religion. He has authored, translated, and edited numerous publications on Hebrew literature, Israel, and Zionism, and has received many awards for his work in Hebrew studies.