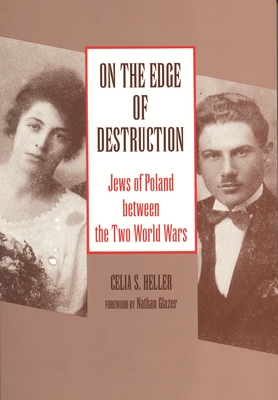 On the Edge of Destruction (Paperback)
Jews of Poland Between the Two World Wars
Wayne State University Press, 9780814324943, 400pp.
Publication Date: January 1, 1994
* Individual store prices may vary.
Description
On the Edge of Destruction, focusing on the Jews of Poland between the two World Wars, illuminates a critical time in the recent Jewish past that has received surprisingly little attention. The Holocaust virtually destroyed the Jews of Poland, once a community of more than three million, constituting ten percent of the population, and the oldest continuous Jewish community in a European country. This book looks at the rich and complex nature of that community and the tremendous pressures under which it lived before the tragic end.

The first half of the book deals with the objective situation of Poland's Jews and the complex historical development of the community. In Part II, the focus is almost exclusively on the actions and the reactions of the Jews to their situation as a despised and oppressed minority. A new epilogue to the second edition brings the complex and tragic story of the post-war Jewish remnant in Poland both under communism and democratization.
About the Author
Celia S. Heller is Professor Emeritus of Sociology at Hunter College and the Graduate Center of CUNY. She earned her Ph.D. at Columbia University.