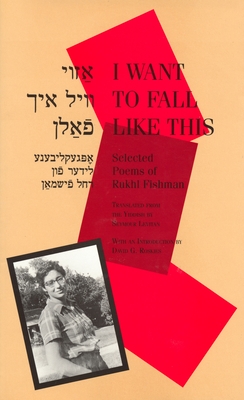 I Want to Fall Like This (Paperback)
Selected Poems of Rukhl Fishman, a Bilingual Edition
Wayne State University Press, 9780814325414, 208pp.
Publication Date: October 1, 1994
* Individual store prices may vary.
Description
I Want To Fall Like This showcases the inspired poetry of Ruhkl Fishman (1935-1984), the youngest and only American-born Yiddish poet of the "Yung Yisroel." This group of young poets and prose writers from across the world settled in Israel after World War II, and used Yiddish, instead of Hebrew, to bridge the gaps across time and place.
Readers can trace Fishman's American influences to Malka Heifetz Tussman, the Yiddish modernist poet, who was Fishman's mentor and role model and from whom she derives her literary style, as seen in her preference for free verse and sparing use of rhyme, her delight in puns and wordplay. Yet in subject matter, Fishman's poetry differs greatly from the poetry of her contemporaries. Neither erotic, biblical, nor political, her poetry concentrates instead on simple subjects - nature and animals and the world around her. What makes her poems brilliant are their ability to illuminate these subjects with fresh curiosity and intimacy.

Her later poetry reveals a far less rosy view of the world around her, paralleling changes in her own life. As Fishman matured and her health turned poor, she began to ponder the passage of time by viewing nature through a darker and more restrictive lens, creating some of her most thoughtful and stirring work, all of which is captured and expertly translated in I Want to Fall Like This.
About the Author
Rukhl Fishman is the author of two volumes of verse in Yiddish, Zun iber alts (Sun Over Everything) and Derner nokhn regn (Thistles After Rain), and two bilingual selections of poems in Yiddish and Hebrew, Shamayim B'eysev/Himl tsvishn grozn (Heaven in the Grass) and Vilde tsig (Wild She-Goat). She was awarded the prestigious Manger Prize for Yiddish literature in 1978. Seymour Levitan was educated at the University of Pennsylvania and Simon Fraser University. His translations of Yiddish poems and stories are included in Voices Within the Ark, The Spice Box, Identifications, The Penguin Book of Yiddish Verse, A Treasury of Yiddish Stories, and other anthologies. He lives in Vancouver, British Columbia.