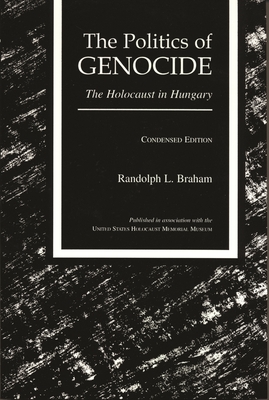 The Politics of Genocide (Paperback)
The Holocaust in Hungary, Condensed Edition
Wayne State University Press, 9780814326916, 328pp.
Publication Date: March 14, 2005
Other Editions of This Title:
Hardcover (4/1/2000)
* Individual store prices may vary.
Description
The Politics of Genocide: The Holocaust in Hungary, Condensed Edition is an abbreviated version of the classic work first published in 1981 and revised and expanded in 1994. It includes a new historical overview, and retains and sharpens its focus on the persecution of the Jews. Through a meticulous use of Hungarian and many other sources, the book explains in a rational and empirical context the historical, political, communal, and socioeconomic factors that contributed to the unfolding of this tragedy at a time when the leaders of the world, including the national and Jewish leaders of Hungary, were already familiar with the secrets of Auschwitz.

The Politics of Genocide is the most eloquent and comprehensive study ever produced of the Holocaust in Hungary. In this condensed edition, Randolph L. Braham includes the most important revisions of the 1994 second edition as well as new material published since then. Scholars of Holocaust, Slavic, and East-Central European studies will find this volume indispensable.
About the Author
Randolph L. Braham is distinguished professor emeritus of political science at the City College and the Graduate School and University Center of the City University of New York, where he serves as a director of the Rosenthal Institute for Holocaust Studies. He is the author of co-editor of forty-two books, including The Nazis' Last Victims: The Holocaust in Hungary (Wayne State University Press, 1998). His two-volume The Politics of Genocide: The Holocaust in Hungary (Columbia University Press, 1981) was selected for the National Jewish Book Award in 1981.