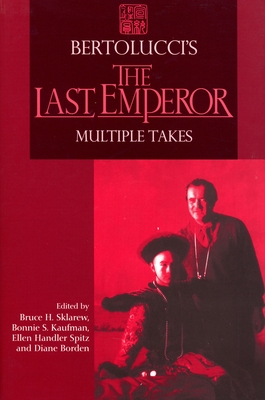 Bertolucci's "The Last Emperor" (Paperback)
Multiple Takes (Contemporary Approaches to Film and Media)
Wayne State University Press, 9780814327005, 280pp.
Publication Date: April 1, 1998
* Individual store prices may vary.
Description
In this anthology, filmmakers, psychoanalysts, film scholars, and cultural historians use a psychoanalytic approach to examine Bernardo Bertolucci's epic film The Last Emperor (I988). Evolving out of a conference on Bertolucci's work, the essays interweave psychological, political, and cinematic themes in The Last Emperor as well as in much of Bertolucci's other works. This volume includes a foreword by Bernardo Bertolucci and is organized into four parts or "takes,"
including "Filmcraft," "Psychoanalysis," "Film Scholarship," and "Cultural History."
Although we can never fully know the real Aisingioro Pu Yi, Bertolucci used his vision of the intricate relationship between art, ideology, and the psychic experience to tell the story of one ordinary man's extraordinary life. Bertolucci's The Last Emperor hopes to illuminate this complex and often enigmatic creation as well as renew an excitement about the possibilities of interdisciplinary criticism in film studies.
About the Author
Bruce H. Sklarew is a faculty member at the Baltimore-Washington Institute for psychoanalysis and co-chair of the Forum for the Psychoanalytic Study of Film.Bonnie S. Kaufman is an assistant clinical professor of psychiatry at Columbia University and a staff psychoanalyst at the Columbia University Center for Psychoanalytic Training and Research.Ellen Handler Spitz is a lecturer in psychiatry at the Columbia University Psychoanalytic Center for Training and Research. She is the author of Art and Psyche (Vale University Press, 1985).Diane Borden is a faculty member at the San Francisco Psychoanalytic Institute and chair of the film program at University of the Pacific.