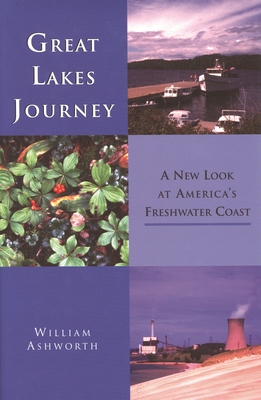 Great Lakes Journey (Paperback)
A New Look at America's Freshwater Coast (Great Lakes Books)
Wayne State University Press, 9780814328378, 288pp.
Publication Date: July 9, 2003
Other Editions of This Title:
Hardcover (11/1/2000)
* Individual store prices may vary.
Description
Great Lakes Journey is a follow-up to William Ashworth's earlier book The Late, Great Lakes, published in 1986. Fifteen years after his first trip, Ashworth journeys to many of the same places and talks to many of the same people to examine the changes that have taken place along the Great Lakes since the 1980s. Through personal observation, research, and numerous interviews with scientists, activists, and government agencies, Ashworth creates a detailed picture of the status of the Great Lakes at the end of the twentieth century. Among the most prominent changes he finds are the arrival of the zebra mussel and other exotic species, the rise and fall of the RAP process for pollution cleanup, a growing public mistrust of government action, a substantial loss of habitat and biodiversity, and an explosion of urban sprawl along the shores of the Lakes. Great Lakes Journey is a welcome update on the latest issues affecting the Great Lakes region.
About the Author
William Ashworth is a reference librarian in Ashland, Oregon. He is the author of several books, including The Late, Great Lakes: An Environmental History (Wayne State University Press, 1987)