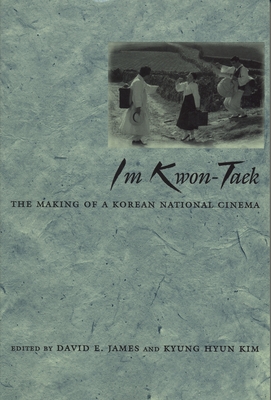 Im Kwon-Taek (Paperback)
The Making of a Korean National Cinema (Contemporary Film and Television)
Wayne State University Press, 9780814328699, 294pp.
Publication Date: December 1, 2001
Other Editions of This Title:
Hardcover (1/31/2002)
* Individual store prices may vary.
Description
Korean cinema was virtually unavailable to the West during the Japanese colonial period (1910-1945), and no film made before 1943 has been recovered even though Korea had an active film-making industry that produced at least 240 films. For a period of forty years, after Korea was liberated from colonialism, a time where Western imports were scarce, Korean cinema became an innovative force reflecting a society whose social and cultural norms were becoming less conservative. Im Kwon-Taek: The Making of a Korean National Cinema is a colleciton of essays written about Im Kwon-Taek, better know as the father of New Korean Cinema, that takes a critical look at the situations of filmmakers in South Korea.
Written by leading Koreanists and scholars of Korean film in the United States, Im Kwon-Taek is the first scholarly treatment of Korean cinema. It establishes Im Kwon-Taek as the only major Korean director whose life's work covers the entire history of South Korea's military rule (1961-1992). It demonstrates Im's struggles with Korean cinema's historical contradictions and also shows how Im rose above political discord. The book includes an interview with Im, a chronology of Korean cinema and Korean history showing major dynastic periods and historical and political events, and a complete filmography.
Im Kwon-Taek is timely and makes a significant contribution to our understanding of Korean cinema. These essays situate Im Kwon-Taek within Korean filmmaking, placing him in industrial, creative, and social contexts, and closely examine some of his finest films. Im Kwon-Taek will interest students and scholars of film studies, Korean studies, religious studies, postcolonial studies, and Asian studies.
About the Author
David James is a professor of cinema studies at the University of Southern California. He is the author of Allegories of Cinema: American Film in the Sixties (Princeton University Press, 1989) and Power Misses: Essays Across (Un) Popular Culture (Verso Books, 1996).Kyung Hyun Kim is a professor of East Asian studies at the University of California at Irvine.