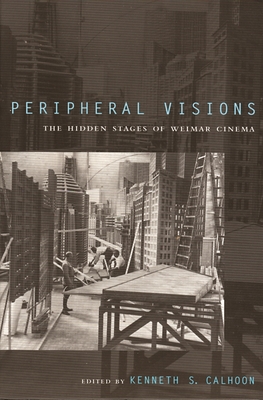 Peripheral Visions (Paperback)
The Hidden Stages of Weimar Cinema (Kritik: German Literary Theory and Cultural Studies)
Wayne State University Press, 9780814329283, 198pp.
Publication Date: May 1, 1994
Other Editions of This Title:
Hardcover (7/31/2001)
* Individual store prices may vary.
Description
The title of this collection echoes Siegfried Kracauer's statement that the lavish movie palaces of 1920s Germany served to stimulate peripheral vision and thus prevent the audience from being absorbed by the spectacle itself. In consideration of questions concerning spatial transformations in and around Weimar cinema, the eight essays in this volume, though some more explicitly than others, have Kracauer as their interlocutor. The first major critic of classic German cinema, Kracauer is patron of the optics that seeks insight on the periphery, inviting the analysis of those other spaces that are implicated, if not present, in the films themselves.

The films treated in this volume include such Expressionist mainstays as Lang's Metropolis and Murnau's Nosferatu as well as generally less familiar works, e.g., Ruttman's Berlin, Symphony of a City, Jessner's Backstairs, Berger's Day and Night, and the mountain films of Fanck and Riefenstahl. Among the "hidden stages" analyzed are amusement parks, carnivals, department stores, train compartments, city streets, the womb, the theater, the chamber, basement apartments--and ultimately Neubabelsberg, the gargantuan studio-complex near Berlin where so many of these peripheral spaces came to be simulated.

With references that range from set architecture to Christmas celebrations, from the poetry of Rilke to chamber music, from the introduction of sound to Macy's parades, and from an "urban unconscious" to a "cinematic sublime," Peripheral Visions is a richly nuanced collection that will be of lasting interest to students and scholars of film and German cultural studies.
About the Author
Kenneth S. Calhoon is a professor of German and Comparative Literature at the University of Oregon and author of Fatherland: Novalis, Freud, and the Discipline of Romance (Wayne State University Press, 1992).