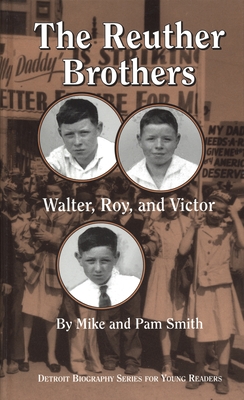 The Reuther Brothers (Paperback)
Walter, Roy, and Victor (Great Lakes Books)
Wayne State University Press, 9780814329955, 88pp.
Publication Date: July 1, 2001
Other Editions of This Title:
Hardcover (8/1/2001)
* Individual store prices may vary.
Description
The tale of the Reuther brothers-Walter, Roy, and Victor-is more than a story of how one of America's great unions was created. It is also a powerful example of how teamwork, dedication, and concern for others can improve the lives of many people. This book portrays the brothers' lifelong commitment to each other and to workers' rights, while charting the career paths that ultimately led each one to his involvement with the United Automobile Workers (UAW).
In a clear, lively narration that explains many important concepts to young readers, this book describes a string of fascinating events, including Walter and Victor's trip to Nazi Germany, their days spent teaching in a Soviet factory, and the strikes they organized in the United States. Against the background of the Depression and the Civil Rights movement, The Reuther Brothers helps readers to understand the ongoing struggles for economic and social justice.