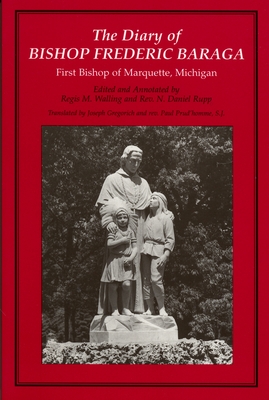 The Diary of Bishop Frederic Baraga (Paperback)
First Bishop of Marquette, Michigan (Revised) (Great Lakes Books)
Wayne State University Press, 9780814329993, 344pp.
Publication Date: July 1, 2001
* Individual store prices may vary.
Description
It was 1831 when Father Frederic Baraga arrived in this country from his native Slovenia. He had come to bring Christianity to the Ottawa and Chippewa Indians of the Old Northwest. Twenty years later, when Baraga first heard that he might be named Bishop of Upper Michigan, he began to keep a "daybook" or diary. Intended as a private document for his own use and reference, the diary contains a log of Baraga's missionary journeys, his observations about daily weather conditions, ship movement on the lakes, and a running account of the various works he accomplished. Between the lines of the usually concise entries, however, there are clues to Baraga's zeal, dedication, and generosity.
An introductory biography of Baraga, lengthy passages from his letters, vignettes about persons in the text and a comprehensive bibliography yield an in-depth portrait of mid-nineteenth century life, especially in Michigan's Upper Peninsula.
About the Author
Regis M. Walling is executive secretary and archivist of the Bishop Baraga Association and Archives. A teacher for nineteen years, she is also the founder and president of the Upper Peninsula Catholic Historical Association and editor of the quarterly journal Peninsula Heritage.Reverend N. Daniel Rupp, a priest in the Diocese of Marquette, is stationed in Schaffer, Michigan.