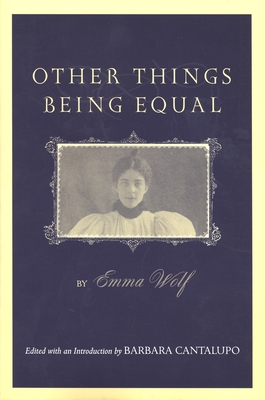 Other Things Being Equal (Paperback)
Wayne State University Press, 9780814330227, 274pp.
Publication Date: March 1, 2002
Other Editions of This Title:
Paperback (4/6/2018)
Paperback (7/8/2008)
Paperback (11/5/2011)
Hardcover (9/30/2009)
Hardcover (4/6/2018)
Hardcover (4/26/2016)
Hardcover (5/12/2016)
Paperback (12/22/2018)
Hardcover (8/18/2008)
Hardcover, Large Print (8/18/2008)
Paperback, Large Print (10/11/2007)
Paperback (10/11/2007)
* Individual store prices may vary.
Description
Widely regarded as a literary genius in her day, the Jewish American author Emma Wolf (1865-1932) wrote vivid stories that penetrated the struggles of women and people of faith, particularly Jews, at the turn of the twentieth century. This reissue of the 1916 revised edition of one of her most popular novels, Other Things Being Equal, first published in 1892, introduces Wolf to a new generation of readers, immersing them in an interfaith love story set in her native San Francisco in the late nineteenth century. The novel's protagonist, Ruth Levice, a young intellectual from an upper-class Jewish family, meets Dr. Herbert Kemp, a Unitarian, and falls in love. The novel's force lies in its unwillingness to adhere to ideological stands. A woman need not give up marriage and home to be strong, independent, and unconventional; a Jew does not have to be orthodox to remain close to her heritage and her faith.
About the Author
Barbara Cantalupo is an associate professor of English at The Pennsylvania State University and is the editor of The Edgar Allen Poe Review