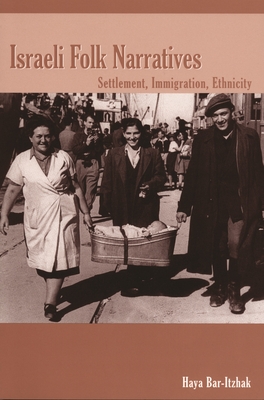 Israeli Folk Narratives
Settlement, Immigration, Ethnicity (Raphael Patai Series in Jewish Folklore and Anthropology)
Paperback

* Individual store prices may vary.
Description
The goals and challenges that face the people of Israel are vividly illustrated by the country's many folk stories. Here Haya Bar-Itzhak presents these tales-gathered from the early settlers of the kibbutz, from immigrants who arrived in Israel after independence, and from ethnic groups-to create a panoramic view of a fascinatingly complex society.
Creating stories set in the past, even the recent past, is a way for societies to express their problems, adversities, yearnings, and hopes. Bar-Itzhak finds this true among inhabitants of the kibbutz, who find their society at a crossroads as a result of changes in Israeli society at large. She reveals the symbolic dimensions of their stories-some dealing with the death of young soldiers (sacrificed sons) in battle-as pointing to the complexity of a local culture that expresses the ethos of Labor Zionism.
In a section dealing with the folklore of immigrants, Bar-Itzhak focuses on the narratives of Yemenite Jews and Polish Jews. Their stories express their traumatic meeting with Israeli society while providing a means for coming to grips with it. The final section, dealing with ethnic folklore of Moroccan Jews, explores the wonder tale through the perspective of disabled and elderly storytellers, who in the language of their community seek to defend their own values and norms, and examines the saints' legends and the body language usually employed in the telling of them. Throughout, the author illuminates the unique challenge of experiencing ethnicity as Jews vis-?-vis other Jews.
Israeli Folk Narratives combines new data with insightful analyses. Anyone interested in folk stories and Israeli culture will be enlightened by this sensitive, thought-provoking book.
Wayne State University Press, 9780814330470, 189pp.
Publication Date: September 19, 2005
About the Author
Haya Bar-Itzhak is Academic Head of Israel Folktale Archives and chair of the folklore division of the Department of Hebrew and Comparative Literature at the University of Haifa. Among other books, she is author of Jewish Poland-Legends of Origin: Ethnopoetics and Legendary Chronicles (Wayne State University Press, 2001) and co-author of Jewish Moroccan Folk Narratives from Israel (Wayne State University Press, 1993).