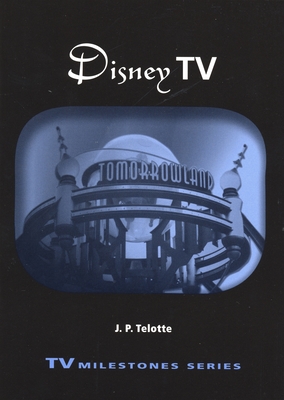 Disney TV (TV Milestones) (Paperback)
Wayne State University Press, 9780814330845, 136pp.
Publication Date: March 4, 2004
* Individual store prices may vary.
Description
This year marks the 50th anniversary of the Walt Disney Company's network television series Disneyland/The Wonderful World of Color. The series, part of Walt Disney's quest to re-create American entertainment, premiered October 27, 1954 on ABC and was the longest-lived program in television history. Over the years, Walt Disney's visions have evolved into family-oriented cinema, television, theme parks. From the lovable Mickey Mouse and Donald Duck to magical places like Frontierland, Disneyland/The Wonderful World of Color generated some of the most popular fads of the era.

In Disney TV, J. P. Telotte examines the history of the Disney television series while placing it in context--the film industry's reaction to television in the post-World War II era, the Disney Studios' place in the American entertainment industry, and Walt Disney's dream to create the modern theme park. Telotte's guiding principle in this examination is to illustrate how Disney changed the relationship between cinema and television and, perhaps more importantly, how it affected American culture.

The conciseness of Telotte's book is a major advantage over other leading Disney scholarship. Detailed, without including minutia, Telotte provides the reader with the key issues that surrounded the development of the Disney phenomenon. This book will attract a wide array of readers--scholars of television, media, and film studies, popular culture students, and all those touched by the magic of Disney.
About the Author
J. P. Telotte is a professor of literature, communication, and culture at Georgia Institute of Technology.