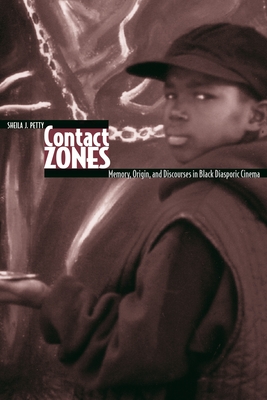 Contact Zones (Paperback)
Memory, Origin, and Discourse in Black Diasporic Cinema (Contemporary Approaches to Film and Television)
Wayne State University Press, 9780814330999, 295pp.
Publication Date: January 8, 2008
* Individual store prices may vary.
Description
Created at the crossroads of slavery, migration, and exile, and comprising a global population, the black diaspora is a diverse space of varied histories, experiences, and goals. Likewise, black diasporic film tends to focus on the complexities of transnational identity, which oscillates between similarity and difference and resists easy categorization. In Contact Zones author Sheila J. Petty addresses a range of filmmakers, theorists, and issues in black diasporic cinema, highlighting their ongoing influences on contemporary artistic and theoretical discourses.

Petty examines both Anglophone and Francophone films and theorists, divided according to this volume's three thematic sections--Slavery, Migration and Exile, and Beyond Borders. The feature films and documentaries considered--which include Sankofa, Daughters of the Dust, The Man by the Shore, and Rude, among others--represent a wide range of cultures and topics. Through close textual analysis that incorporates the work of well-known diasporic thinkers like W. E. B. DuBois, Aim C saire, and Frantz Fanon along with contemporary notables such as Molefi Kete Asante, bell hooks, Clenora Hudson-Weems, Ren Depestre, Paul Gilroy, and Rinaldo Walcott, Petty details the unique ways in which black diasporic films create meaning.

By exploring a variety of African American, Caribbean, Black British, and African Canadian perspectives, Contact Zones provides a detailed survey of the diversity and vitality of black diasporic contributions to cinema and theory. This volume will be a welcome addition to the libraries of scholars and students of film studies and Africana studies.
About the Author
Sheila J. Petty is professor of film and video studies at the University of Regina, Saskatchewan, Canada.