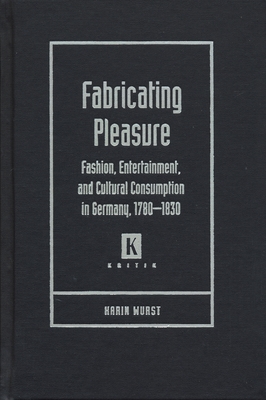 Fabricating Pleasure (Hardcover)
Fashion, Entertainment, and Cultural Consumption in Germany, 1780-1830 (Kritik: German Literary Theory and Cultural Studies)
Kritik: German Literary Theory and Cultural S, 9780814331316, 512pp.
Publication Date: September 1, 2005
* Individual store prices may vary.
Description
Entertainment, defined as occasions for creating pleasure, added an important dimension to the lifestyle and self-definition of the German middle class around the turn of the nineteenth century. Modern forms of culture and consumption appearing around this time not only enhanced pleasure in physical sensations but also enabled imaginary sensations in the absence of actual stimuli. Desiring, rather than having, became an important mode of cultural consumption, linking products and practices with self-image, serving to express social identity in an increasingly more anonymous society--a society where the modern freedom of choice brought with it a loss of tradition and the stability attached to it.

Fabricating Pleasure traces the creation of this unique form of domestic culture, showing how the bourgeoisie of late-eighteenth- and early-nineteenth-century Germany fused consumption with high culture. Author Karin Wurst illuminates the sociohistorical context and the emergence of the modern middle class, its differentiation, and its conception of culture. In her thoughtful analysis, Wurst reconstructs the roles of Empfindsamkeit (sensibility) and the new love paradigm, examining the change in mentality they fostered through the reconceptualization of pleasure and entertainment. The book also discusses the relationship between print culture (using Bertuch's Journal des Luxus und der Moden as its prime example) and an increase in social mobility. From art and music to fashion and travel, Wurst places these popular forms of entertainment and pleasurable diversion in their social and historical contexts and also shows how they have remarkable bearing on present-day debates on cultural literacy.
About the Author
Karin Wurst is professor of German at Michigan State University and author of Unpopular Virtues: J. M. R. Lenz and the Critics, A Reception History (Camden House, 1999).