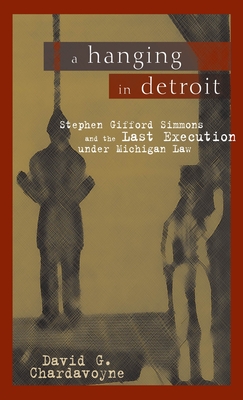 A Hanging in Detroit (Paperback)
Stephen Gifford Simmons and the Last Execution Under Michigan Law (Great Lakes Books)
Wayne State University Press, 9780814331330, 239pp.
Publication Date: August 29, 2003
Other Editions of This Title:
Hardcover (7/16/2003)
* Individual store prices may vary.
Description
On September 24, 1830, Stephen G. Simmons, a fifty-year-old tavern keeper and farmer, was hanged in Detroit for murdering his wife, Levana Simmons, in a drunken, jealous rage. Michigan executed only two people during the fifty-year period, from 1796 to 1846, when the death penalty was legal within its boundaries. Simmons was the second and last person to be executed under Michigan law. In A Hanging in Detroit David G. Chardavoyne vividly evokes not only the crime, trial, and execution of Simmons, but also the setting and players of the drama, social and legal customs of the times, and the controversy that arose because of the affair. Chardavoyne illuminates his account of this important moment in Michigan's history with many little-known facts, creating a study that is at once an engrossing story and the first historical examination of the event that helped bring about the abolition of the death penalty in Michigan.

Simmons execution came at a time when Michigan had begun to change from a sparsely populated wilderness to a thriving agricultural center, and Detroit from a small military outpost to a metropolis founded on trade, manufacturing, and an influx of immigrants and other settlers. The hanging was a defining moment during this period of dramatic social change. Thousands of spectators crowded into Detroit expecting to see a thrilling public execution. Many of those spectators, however, left deeply disturbed by the spectacle they had witnessed. Chardavoyne, a lawyer, probes the unsettling incident which sparked a profound shift in attitudes toward capital punishment in Michigan, examining along the way such mysteries as why Simmons was hanged for his crime when other contemporary killers were hardly punished at all. A Hanging in Detroit will fascinate legal historians and lay readers alike with its incisive look into Great Lakes regional history and crime and punishment in Michigan.
About the Author
David G. Chardavoyne is an attorney with his own practice and an adjunct professor at Wayne State University and University of Detroit Mercy School of Law. He is the author of Michigan Nonstandard Jury Instructions (West Publishing, 1997).