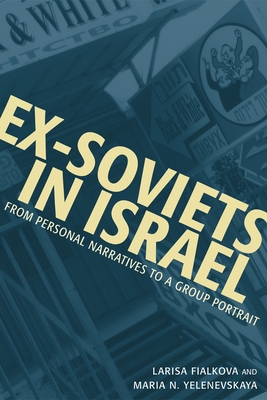 Ex-Soviets in Israel (Hardcover)
From Personal Narratives to a Group Portrait (Raphael Patai Series in Jewish Folklore and Anthropology)
Raphael Patai Series in Jewish Folklore and A, 9780814331699, 373pp.
Publication Date: May 1, 2007
* Individual store prices may vary.
Description
In the final years of the Soviet Union and into the 1990s, Soviet Jews immigrated to Israel at an unprecedented rate, bringing about profound changes in Israeli society and the way immigrants understood their own identity. In this volume ex-Soviets in Israel reflect on their immigration experiences, allowing readers to explore this transitional cultural group directly through immigrants' thoughts, memories, and feelings, rather than physical artifacts like magazines, films, or books.

Drawing on their fieldwork as well as on analyses of the Russian-language Israeli media and Internet forums, Larisa Fialkova and Maria N. Yelenevskaya present a collage of cultural and folk traditions--from Slavic to Soviet, Jewish, and Muslim--to demonstrate that the mythology of Soviet Jews in Israel is still in the making. The authors begin by discussing their research strategies, explaining the sources used as material for the study, and analyzing the demographic profile of the immigrants interviewed for the project. Chapters use immigrants' personal recollections to both find fragments of Jewish tradition that survived despite the assimilation policy in the USSR and show how traditional folk perception of the Other affected immigrants' interaction with members of their receiving society. The authors also investigate how immigrants' perception of time and space affected their integration, consider the mythology of Fate and Lucky Coincidences as a means of fighting immigrant stress, examine folk-linguistics and the role of the lay-person's view of languages in the life of the immigrant community, and analyze the transformation of folklore genres and images of the country of origin under new conditions.

As the biggest immigration wave from a single country in Israel's history, the ex-Soviet Jews make a fascinating case study for a variety of disciplines. Ex-Soviets in Israel will be of interest to scholars who work in Jewish and immigration studies, modern folklore, anthropology, and sociolinguistics.
About the Author
Larisa Fialkova is a senior researcher in the department of Hebrew and comparative literature at the University of Haifa.Maria N. Yelenevskaya is senior teaching fellow in the department of humanities and arts at the Technion-Israel Institute of Technology, Haifa.