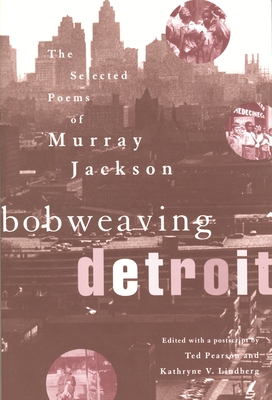 Bobweaving Detroit (Paperback)
The Selected Poems of Murray Jackson (African American Life)
Wayne State University Press, 9780814331941, 104pp.
Publication Date: December 1, 2003
* Individual store prices may vary.
Description
Bobweaving Detroit is Murray Jackson's final collection of poems. Dr. Jackson, a highly respected educator, political figure and philanthropist, as well as an internationally known poet, offers work rich in the history and hope of Detroit's Black urban-and urbane-tradition. Jackson was a Classicist as well as an athlete, an inspiring teacher and an inspired humanist whose poems engage the blues vernacular, a wide palate of visual arts, and a broad spectrum of musical sources.
Murray Jackson was always a poet, though he first published with Broadside Press, Detroit's and the nation's longest continuously publishing Black poetry press, after a long career of public service during which he opened Detroit's first community college and many other educational and artistic venues to his fellow citizens and scholars. Readers of poetry and lovers of the arts, humanities, and athletics can recognize and join Jackson's conversations-his "bobweaving"- with Langston Hughes, Julius Caesar, Mozart, Duke Ellington, Archie Moore and Marianne Moore, William Shakespeare and Willie the Pimp, Coleman Hawkins and Coleman Young, Malcolm X and Malcolm Boyd.
About the Author
Murray Jackson (1926-2002), a resident of Detroit for over seventy years, was the founding president of Wayne County Community College and was a twenty-year member of the Wayne State University Board of Governors. He is author of Watermelon Rinds and Cherry Pits (Broadside Press, 1991) and Woodland Sketches: Scenes from Childhood (X-Press Productions, 1990).Ted Pearson is adjunct faculty with the Department of English at Wayne State University. He is the author of many poetry books, most recently including Songs Aside: 1992-2002 (Past Tents Press, 2003) and The Devil's Aria (Meow Press, 1999).Kathryne V. Lindberg was professor of English and Africana Studies at Wayne State University. She is the author of Reading Pound Reading: Modernism After Nietzsche (Oxford University Press, 1987) and of the forthcoming From Claude McKay to Huey Newton: Black Revolutionary Letters (Princeton University Press).