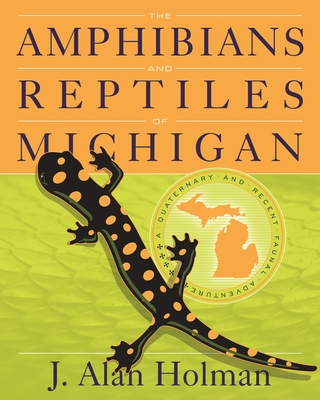 The Amphibians and Reptiles of Michigan (Hardcover)
A Quaternary and Recent Faunal Adventure (Great Lakes Books)
Wayne State University Press, 9780814332399, 320pp.
Publication Date: June 1, 2012
* Individual store prices may vary.
Description
With its temperate climate and variety of habitats, Michigan supports a diverse array of animals and plants, including fifty-four species of amphibians and reptiles. The dispersal and biology of the Michigan herpetofauna-amphibians and reptiles-is even more unique because Michigan consists of two peninsulas that project into large freshwater seas and also because it was completely covered by a massive ice sheet a relatively short time ago. In The Amphibians and Reptiles of Michigan: A Quaternary and Recent Faunal Adventure, author J. Alan Holman explores the state's amphibians and reptiles in detail and with many helpful illustrations, making this the only volume of its kind available.
Holman uniquely bridges the gap between neo- and paleoherpetology and shows that Michigan's modern herpetofaunas reflect Pleistocene (ice age) and Holocene (warm period after the ice age) events, as the entire modern population was forced to re-invade the state after the last withdrawal of ice. In Part 1, Holman discusses Michigan as an amphibian and reptile habitat, including a geological, climatic, and vegetational history. Part 2 presents recent species accounts, covering all fifty-four species of amphibians and reptiles, along with their general distribution, Michigan distribution (with range maps), geographic variation, habitat and habits, reproduction and growth, diet, predation and defense, interaction with humans, behavioral characteristics, population health, and general remarks. In Part 3, Holman examines the Michigan herpetofauna in Quaternary and recent historical times and the species accounts include Pleistocene, Holocene, and archaeological records.
Color photographs of major herpetological habitats in Michigan are provided and color photographs of all modern species are included. Black-and-white illustrations depict both modern and ancient speicies. Herpetologists, paleontologists, zoologists, ecologists, and general biologists, as well as anyone who loves salamanders, frogs, turtles, and snakes will appreciate the comprehensive research presented in The Amphibians and Reptiles of Michigan.
About the Author
J. Alan Holman was curator emeritus of vertebrate paleontology at the Michigan State University Museum, emeritus professor of geology and zoology at Michigan State University, and a museum associate at the University of Nebraska State Museum. He was considered the leading authority of New World fossil snakes and published more than 260 works in paleoherpetology, herpetology, and vertebrate paleontology. He passed away in 2006.
or
Not Currently Available for Direct Purchase