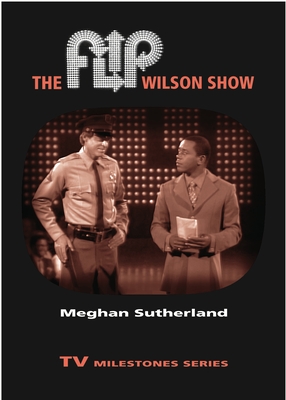 The Flip Wilson Show (TV Milestones) (Paperback)
Wayne State University Press, 9780814332528, 128pp.
Publication Date: January 9, 2008
* Individual store prices may vary.
Description
When The Flip Wilson Show debuted on NBC in 1970, the major legislative victories of the civil rights movement had been won, but the broadcast airwaves were far from integrated. A handful of shows featured black leading characters, but none had quite reached the top spot of the Nielsen ratings. By 1971, however, Wilson's "old-fashioned" comedy-variety hour was a bonafide hit, and in January 1972 Time magazine declared Wilson "TV's First Black Superstar." In this volume, Meghan Sutherland examines how The Flip Wilson Show succeeded in the volatile racial and economic milieu of the early 1970s and how its success shaped the prevailing codes of black performance and political discourse on television.

In particular, Sutherland examines the ambivalence that pervades discussions of Wilson's outlandish performance style--discussions that generally treat the question of whether his characters lampooned or simply reprised the stereotypes of minstrelsy as a problem for reception studies. Sutherland argues that this ambivalence was actually the basis of the show's wide appeal, and must thus be understood as an aesthetic strategy rather than as a mere effect of different viewers' interpretations. Along these same lines, she asserts that Wilson used the non-naturalistic aesthetics of variety performance in order to mount a critique of "realist" race sitcoms of the period, on the one hand, and the discourse of authentic masculinity that accompanied the rise of Black Power, on the other. Finally, she considers how the show used its integrated studio audience to stage the reconstitution of one, big, happy broadcast audience after the social, racial, and political upheavals of the late 1960s.

The Flip Wilson Show is the most detailed study of Wilson's variety show in its cultural and institutional context. This volume elucidates the characteristics of the variety genre that continue to make it a popular medium for political discourse in fractious social moments. In this way, it offers a fresh approach to understanding the enduring importance of the variety genre for black comedians--from Richard Pryor to the Wayans Brothers to Dave Chappelle--and for television in general. Scholars of film and television studies will appreciate this newest addition to the TV Milestones Series.
About the Author
Meghan Sutherland is associate professor of screen studies at Oklahoma State University.