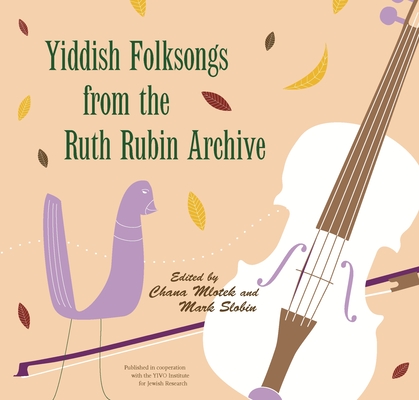 Yiddish Folksongs from the Ruth Rubin Archive [With Audio CD] (Paperback)
Wayne State University Press, 9780814332580, 312pp.
Publication Date: August 1, 2007
* Individual store prices may vary.
Description
Among researchers and collectors of Yiddish folksongs, Ruth Rubin was unmatched in both her expertise and enthusiasm. Over the course of her career, Rubin collected some 2,000 songs from generations of people who had grown up in a flourishing Yiddish-speaking environment, an environment which was mostly ruined by Nazi annihilation and Stalinist repression. This collection is based on a manuscript that Rubin was unable to publish before her death, with additional annotation and commentary provided throughout by noted music scholars Chana Mlotek and Mark Slobin.
The songs in this collection were gathered in oral interviews with Yiddish-speaking men and women who came to North America from Eastern Europe throughout the first half of the twentieth century. Rubin presents her commentary on these treasured songs, along with the sheet music for all of the songs. An audio CD is also packaged with this collection.
Unlike earlier anthologies, this collection comes directly from oral tradition and has not been subject to adaptation, standardization, or harmonization. The text of the songs is given in standard Yiddish, unless the singer is singing in a different dialect. Variants of songs in this collection are indicated and linked with folksong collections included in the bibliography section. Although this anthology contains some very rare songs, it is aimed at a popular audience of singers, scholars, folklorists, students, and those interested in the rich but ravaged repertoire of one of Europe's most long-running and colorful folksong cultures. Published in cooperation with the YIVO foundation.
About the Author
Chana Mlotek is the music archivist for the YIVO Institute for Jewish Research and is a leading scholar of Yiddish song. She has written numerous articles on the topic and, together with her late husband Yosl, compiled three major anthologies of Yiddish songs. Chana and Yosl also wrote a research column on Yiddish song in the Yiddish-language newspaper Forverts.Mark Slobin is professor of music at Wesleyan University and a scholar of Jewish and Central European music. He is the author of Tenement Songs: Popular Music of the Jewish Immigrants and Exploring the Klezmer World.
or
Not Currently Available for Direct Purchase