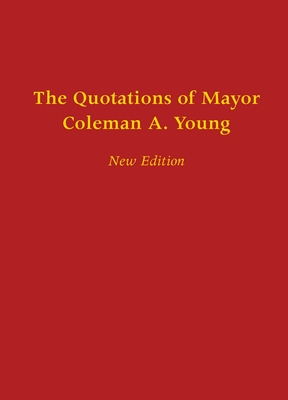 The Quotations of Mayor Coleman A. Young (African American Life) (Paperback)
Wayne State University Press, 9780814332603, 68pp.
Publication Date: May 10, 2005
* Individual store prices may vary.
Description
This little red book brings together many of the longtime Detroit Mayor's most unforgettable lines in a format meant to recall the famous little red book of quotations from Chairman Mao Tse-Tung. It was first published in 1991 by Droog Press, a small Detroit-based press founded by a long-time reporter and editor at the Detroit Free Press. This new edition features quotations that did not make it into the original book and a chronology outlining Coleman Young's life and career. Both insightful and entertaining, this is an essential reference for anyone interested in politics, black politics in particular, and political humor.
About the Author
A native Detroiter, McGraw worked for 37 years at The Detroit Free Press, where he served as a freelance writer, city desk reporter, sports writer, deputy metro editor, foreign correspondent, columnist and blogger. His writing also appeared in the New York Times, Washington Post, Toronto Globe and Mail, Newsweek, the London-based History Workshop Journal, the Fifth Estate and Orbit. He founded the Droog Press and taught journalism at Wayne State University, the University of Michigan-Dearborn and Oakland University.