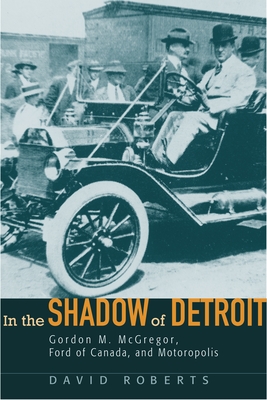 In the Shadow of Detroit (Hardcover)
Gordon M. McGregor, Ford of Canada, and Motoropolis (Great Lakes Books)
Great Lakes Books Series, 9780814332849, 326pp.
Publication Date: March 1, 2006
* Individual store prices may vary.
Description
Part biography and part corporate history, In the Shadow of Detroit investigates the life and career of Gordon M. McGregor, who founded and led Ford of Canada during the first two decades of the twentieth century. With no automotive background, minimal technical expertise, and only a few years of experience in business, McGregor came to Ford in 1904 from a failing wagon-building firm. David Roberts draws from diverse public and private historical sources to chronicle McGregor's swift ascension to corporate leader, including how McGregor attached himself to Henry Ford's meteoric rise, achieved remarkable success, and became for a time Windsor's preeminent industrialist and civic leader.

Roberts intertwines McGregor's corporate, civic, and personal lives to trace his pioneering role in the automobile industry. Some themes from McGregor's career that are considered here include company growth, the technical and cultural concept of the automobile, the impact of automotive transportation, technological reliance on Detroit, parent-branch relations, the effects of border proximity, industrial and political lobbying, labor relations, secondary manufacturing, public involvement, and the Great War. In addition, Roberts probes McGregor's often-subservient relationship with the enigmatic Henry Ford and examines how McGregor drew praise and political ire in calling for regional governance in the "Border Cities" opposite Detroit. In the years before his premature death, McGregor and his company dominated and defined the growing automotive industry in Windsor-Detroit, and their story deserves to be more widely known.

Both elegantly written and exhaustively researched, In the Shadow of Detroit will be enjoyable and informative reading for local historians and anyone interested in the automobile industry.
About the Author
David Roberts is an editor with the Dictionary of Canadian Biography/Dictionnaire biographique du Canada at the University of Toronto.