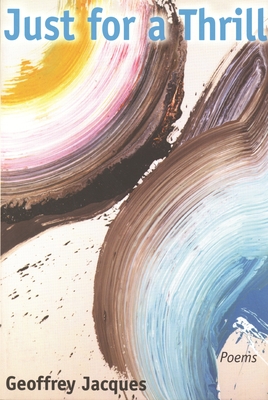 Just for a Thrill (Paperback)
Poems (African American Life)
Wayne State University Press, 9780814332900, 116pp.
Publication Date: November 29, 2005
* Individual store prices may vary.
Description
Geoffrey Jacques is a subtle, sophisticated poet who has read widely and has taken his cue from some of the most important vanguard poets of the past century and a half--Whitman, Breton, C saire, Stein, Olson, Baraka, and others. He has digested and assimilated the lessons to be learned from their work while finding a way that is very much his own. The result is a distinctive contemporary voice whose angular mode of address and unerring touch edify as much as they impress.

This book presents both in full flower. Techniques of detour and indirection productively encounter an aesthetic of sampling, quotation, and juxtaposition, a language-foregrounding tack that draws a range of domains and discourses into its mix. Song titles, clich's, catch phrases, bureaucratic boilerplate, advertising jargon, office chat, song lyrics, legalese, and other components of the linguistic atmosphere we live in find their way into the work, suggesting an overmediated, gone-before-it-gets-here present.

Just for a Thrill is a substantial gathering of Jacques' work of recent years--a welcome breakthrough book by a poet whose work has appeared mainly in little magazines and limited chapbook editions over the past dozen or so years, a poet whose work deserves greater attention. We're fortunate to have so galvanic a collection of Jacques' poetry in an edition that promises to reach a wider audience.
--From the foreword by Nathaniel Mackey
About the Author
Geoffrey Jacques is a poet and critic whose work has been published internationally. His previous volumes of poetry are Hunger and Other Poems (1993) and Suspended Knowledge (1998). A former McDowell Colony Fellow, he is on the faculty of the English department at Lehman College. He lives in Brooklyn, New York.