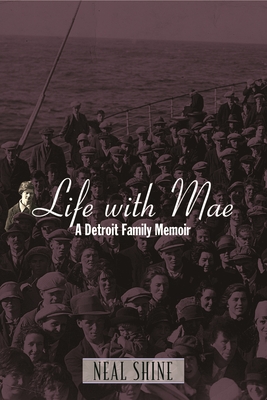 Life with Mae (Hardcover)
A Detroit Family Memoir (Great Lakes Books)
Great Lakes Books Series, 9780814332986, 219pp.
Publication Date: September 12, 2007
* Individual store prices may vary.
Description
In Life with Mae, the late Neal Shine combines an engaging memoir of his family life in prewar Detroit with a biography of his mother, Mae, whose vibrant spirit and fierce affection left an indelible mark on her three sons and their friends and neighbors.

Mae was born in 1909 in the small town of Carrick-on-Shannon, Ireland, where her father ran the depot that distributed Guiness Stout. Going into service as a housekeeper at fourteen, Mae quickly saw that the only future she had in Ireland was as a servant. By the time she was eighteen, she had saved enough money from her housekeeping job for a one-way ticket to the United States, where she eventually settled in Detroit.

Shine, longtime editor and former publisher of the Detroit Free Press, tells his story in a series of entertaining interconnected vignettes, reflecting on his mother, his family life in Detroit, and later his journey to visit family in Ireland. Whether recounting Mae's feud with a local tavern owner, her distrust of the food sold by local grocers, or her standoff with a department store deliveryman who had come to repossess their furniture, Shine lovingly conveys his mother's fierce protective streak, her effervescent personality, and her outspoken identification with the poor. For fans of Shine's insightful and humorous storytelling, as well as fellow Detroiters and readers with Irish roots, Life with Mae will be an entertaining and satisfying read.
About the Author
Neal Shine was the former editor and publisher of the Detroit Free Press, as well as emeritus professor of journalism at Oakland University in Rochester, Michigan. During his years as publisher he was heavily involved in the life of the community, serving on the boards of more than thirty-five civic and community organizations. He received more than three-dozen awards for his community work and numerous awards for his journalism.